Garry Rogers Motorsport currently competes in the National Trans Am series.
In 2022 GRM will be competing with the following drivers in their line-up: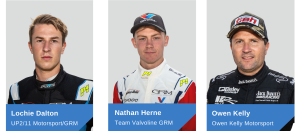 National Trans Am is a series inspired by classic 1960s American motorsport and over the years has produced some of the most thrilling motor racing utilising cost-effective common chassis and components across all makes of competing cars. It features iconic makes of V8-powered, rear-wheel drive muscle cars including Dodge Challengers, Ford Mustangs and Chevrolet Cameros to name a few.
GRM's involvement in Trans Am has been bolstered by the participation of their young drivers and supported through the work of Competition Director Marcos Ambrose and Director Barry Rogers who believe the series to be a perfect platform for young drivers to gain experience alongside more experienced racers.
GRM is proud to support rising stars in Australian motor racing and believes that through series like National Trans Am, it will provide budding talents with the experience they need to progress in their racing careers.