Nathan Herne to Make Australian Return at Adelaide 500
November 17, 2023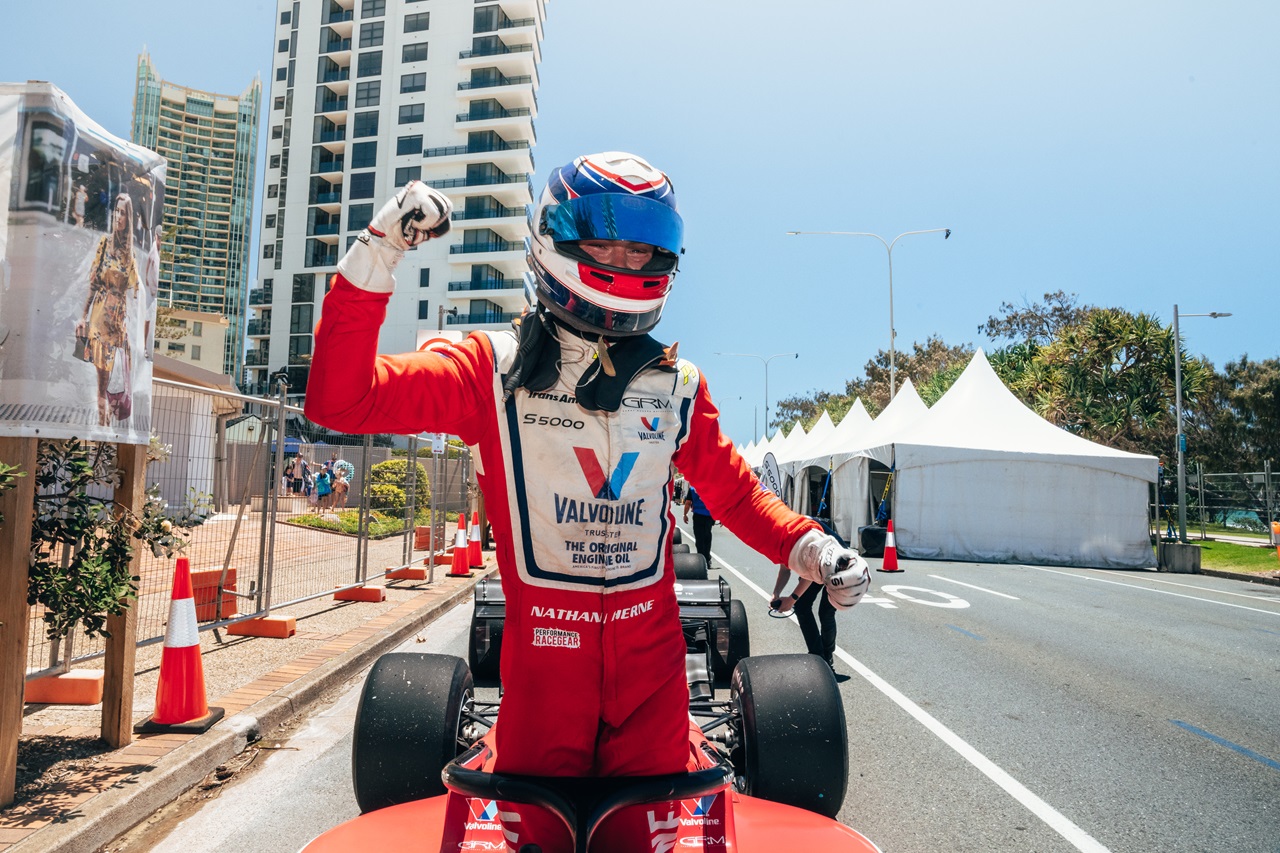 2022 S5000 Tasman Series Champion, Nathan Herne, returns to the category next week at the season ending Vailo Adelaide 500, linking back up with current championship leaders Garry Rogers Motorsport.
The Adelaide 500 also serves as the sole venue for this year's Tasman Series, with the title fight to play out alongside the battle for the Gold Star.
Herne has been racing in America across the 2023 season, establishing himself as a leading rookie in the American TA2 Series, taking four podiums. The maiden American campaign for Herne has also included Dirt Late Model starts and an oval Late Model test.
Herne's impressive 2022 S5000 season began with a feature race podium at the Australian Grand Prix, before taking his first series pole position at Hidden Valley. Herne then dominated the final two events of the year, which made up the Tasman Series. Pole position and all three race wins on the Gold Coast were followed up by another race win at the Adelaide 500 – taking the title by 21 points.
Garry Rogers Motorsport currently lead the 2023 series through Aaron Cameron, who has won four of the last six races, taking an 84 point lead into the season finale. Herne also won the 2022 Trans Am Championship with GRM, combining for 17 wins across the two series in a dual title winning season.
The return of Herne sees the GRM stable settle at six for the Adelaide 500, joining Cameron, Ben Bargwanna, Nic Carroll, Jordan Boys and Sebastien Amadio.
Quotes
Nathan Herne
"It's going to be exciting to come back home and race at Adelaide again, especially in the S5000's," said Herne.
"There is one S5000 car that has followed me around here in America, racing on the same weekends as I have been in the TA2 Series, and every time you see and hear the thing go around you remember just how cool of a car they are.
"A lot of my best memories from racing came from the S5000 series last year, obviously the Tasman Series being a highlight of that. To have the opportunity to come back and have a crack at going back to back in the series, it's pretty exciting, and an opportunity I am super thankful for from Barry and the crew at GRM.
"Coming back into the seat with the GRM crew behind me once again will be awesome, I had a visit from a few of the GRM boys not too long ago, so to have the band back together is going to be awesome. We definitely floated the idea around between us whilst they were here once or twice.
"It's been good to see Aaron (Cameron) flying the GRM Team Valvoline flag at the front. Aaron and I had some good racing last year at the Adelaide Street Circuit, where he actually pipped me in qualifying and pushed me along all the way in race one, so I'm excited to reignite that battle.
"It'll be an awesome event to be a part of, open wheelers on a street circuit, what else could you want," concluded Herne.
Barry Rogers, Director – Garry Rogers Motorsport
"Nathan is a young driver who we have been watching since he was in karts in 2016," said Rogers.
"He excelled in Formula Ford, winning both Victorian and NSW state titles in 2018. Following a couple of years in TA2 and Trans Am where he won his first National Trans Am title, we were able to get him across to GRM in 2021 to race an S5000 and in 2022 he raced Trans Am and S5000 with GRM.
"Nathan immediately took to the S5000, and his results showed, winning four of the six races in the 2022 Tasman Series and entering the 2023 three-race Tasman Series as the reigning champion.
"We have watched with interest as Nathan has competed in the USA during 2023 and has continued to show his talent in the Trans Am car, regularly featuring on the podium against the next generation of NASCAR drivers.
"The pointy end of the S5000 field is going to be very sharp with Cooper Webster, Aaron Cameron and another yet to be announced high profile addition. These are three races you will not want to miss at next week's Vailo Adelaide 500," concluded Rogers.