Valvoline Stars Shine in Title Winning Weekend
November 15, 2023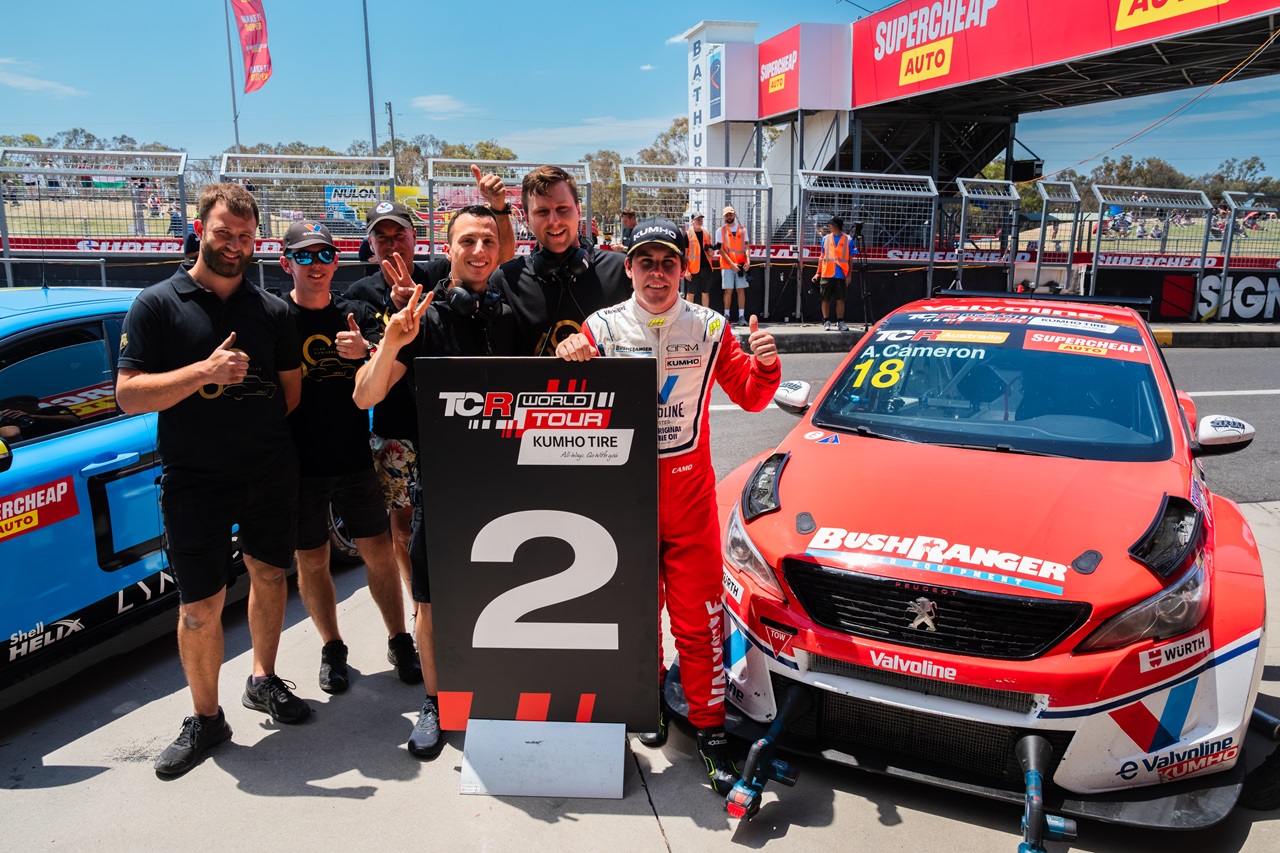 James Moffat and Aaron Cameron led the charge around Mount Panorama, with Moffat sweeping the weekend in Trans Am on his way to being crowned 2023 Trans Am Champion, and Cameron delivering a world-beating performance in TCR.
The Trans Am crew put in an incredible showing in Bathurst, locking out the top three spots in qualifying and sweeping the podium in race one. Moffat taking victory ahead of Edan Thornburrow and Lochie Dalton.
With race two scrapped from the record books without enough laps run, it left one more race to conclude the season on Sunday afternoon. Moffat got away untroubled, while Thornburrow and Dalton both got caught up in a turn two melee – taking Thornburrow out of the race and Dalton to the back of the field.
Moffat started dropping oil on the restart which forced him to pit road and swung the title back in Dalton's favour, who had climbed back inside the top 10. Quick work from the crew got Moffat back on track, which was enough for him to get across the line and grab his first national motorsport title.
In the end Moffat took the Championship by 76 points over Dalton, securing GRM's second consecutive one-two result in the series. Thornburrow finishes 12th after an often luckless season, notching up a number of podiums along the way.
The TCR Australia trio of Cameron, Ben Bargwanna and Jordan Cox lined up fifth, sixth and eighth of the locals respectively as they looked to take on the Internationals. Teddy Clairet was just two spots back from Cox on the combined grid, as he took over from brother Jimmy.
In race one, Cameron drew closer to the TCR series lead with a third in class finish, and ninth overall. Cox and Clairet were nose to tail across the line in 14th and 15th, while Bargwanna battled mechanicals woes.
Cameron led early in race two, coming home second outright and the only Australian inside the top seven, taking the TCR Australia victory. Bargwanna was on a charge to 12th outright and fourth in TCR Australia, while Cox was 19th and a Clairet an unlucky retirement.
The title deciding race was chaotic, with some bad luck creeping in and forcing Cox, Cameron and Clairet to early retirements. Bargwanna excelled, as he fought to third in TCR Australia and 10th overall.
The results see Cameron close out the Championship in fourth, with Cox and Bargwanna sixth and seventh. Kody Garland ends up 13th after missing the final two rounds.
Attention now turns to the S5000 finale in Adelaide from November 23-26. Also, Bargwanna takes on the famous Macau circuit this weekend with the TCR World Tour!