Valvoline Duo Earn Crucial Results in Sandown
September 11, 2023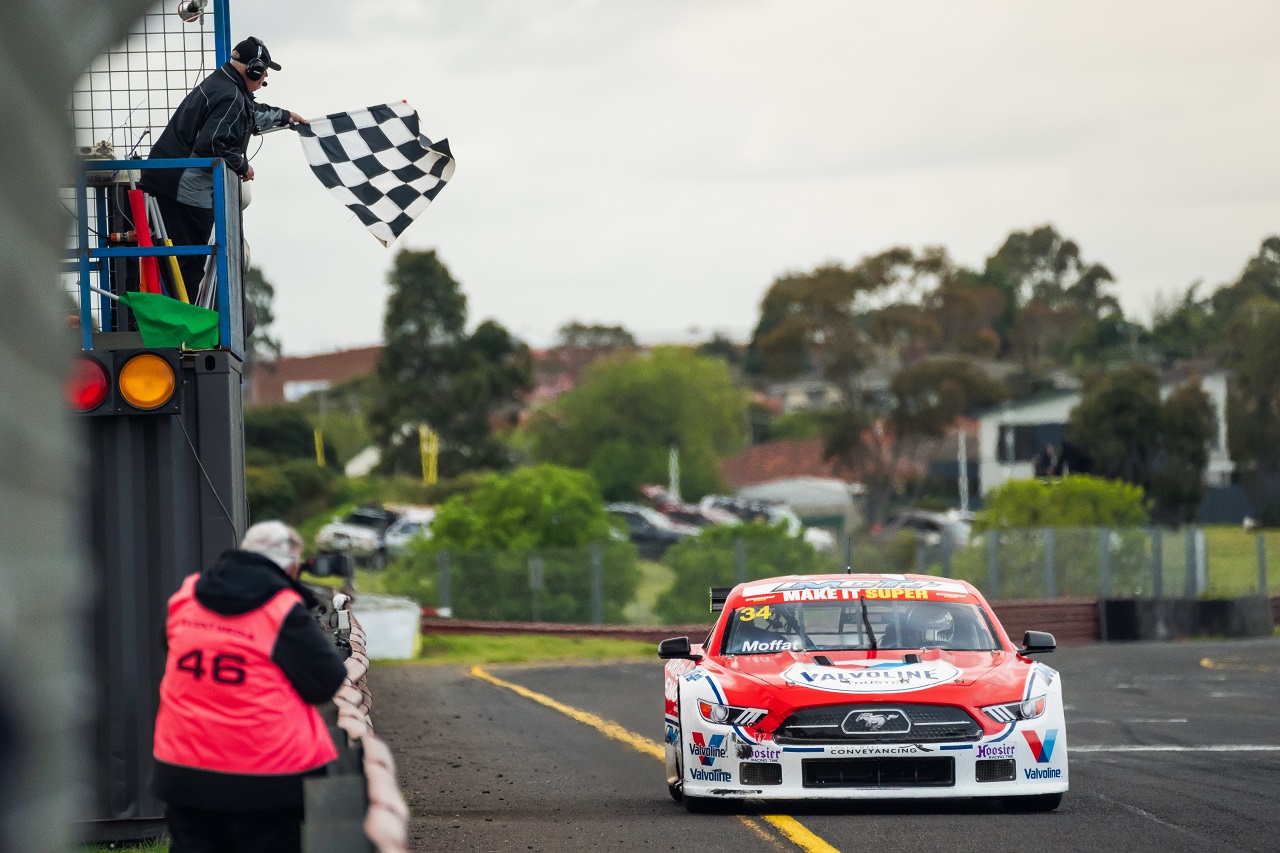 James Moffat and Aaron Cameron have positioned themselves strongly following the Sandown action for a tilt at their respective titles when Trans Am and TCR close out their season with back-to-backs rounds at Sydney and Bathurst.
Moffat will be closely rivalled by Lochie Dalton, with the GRM pair separated by just 39 points. The Valvoline #34 put on a clinic at Sandown, kicked off by a storming pole position on Friday. Dalton and Edan Thornburrow positioned themselves nicely as well with fifth and sixth on the grid for race one. A chaotic race saw Moffat fight hard to reclaim the lead and take victory after a tight first corner, while Thornburrow and Dalton had to get the elbows out to come home in seventh and ninth amidst some fierce battles.
In race two it was smoother sailing for Moffat who was untroubled out front, recording his second victory of the weekend. Dalton cut through the pack and was in a close fight for the final podium spot, bringing it home in fourth. Thornburrow's streak of horrid luck continued, with some minor lap one contact putting him out of the race.
The final race of the weekend was a wild one, but Moffat held the lead and jumped away yet again to pick up a perfect sweep of the round. Dalton picked up early places and drove superbly to bring home a one-two finish for the team. Thornburrow had arguably the start of the season, rising up 14 spots in just two laps to join the battle for the podium places. It came unstuck though when he was hit from behind and spun out just one lap later, resulting in another unavoidable retirement.
Over in TCR it was a crucial weekend in the Championship, with the World Tour brining an added element to the final two rounds. Cameron put himself fifth on the grid, with Ben Bargwanna in eighth, Kody Garland in ninth, Jordan Cox in 11th and Clay Richards in 14th.
Cameron had leapt up the order courtesy of a fast start to finish in second at the end of race one, but a penalty for passing off the track demoted him to fourth. Bargwanna and Cox fought their way forward to finish in sixth and eighth. Garland was running inside the top 10 when he was pushed off track, demoting him to 12th. Richards unfortunately had to retire after encountering rising water temperatures early on.
There was plenty of early movement in race two with Garland coming from the back to challenge for fifth inside the opening two laps, before contact knocked his undertray lose and he hung on for 11th ahead of Richards in 13th. Bargwanna and Cox were in a close fight all race, finishing in sixth and fourth. Cameron came from seventh on the grid to finish in second, and this time kept the spot. The weekend ended with Cameron again in second, while Cox looked set to finish in third before being bumped wide on the final lap and finishing in fifth. Bargwanna was on the back of that battle, finishing just behind in sixth. Garland was ninth, while Richards had to pit for repairs after blowing a turbo hose and finished in 10th.
That leaves Cameron just 38 points adrift off the series lead, with Cox in fifth and 93 points back. Bargwanna is sitting in sixth, 10 points further back, while Garland is ninth.
TCR and Trans Am return for a double header with Race Sydney from November 3-4 and the Bathurst International from November 10-12.