Clairet Brothers to Contest Sydney and Bathurst, Bargwanna Set for Macau
September 9, 2023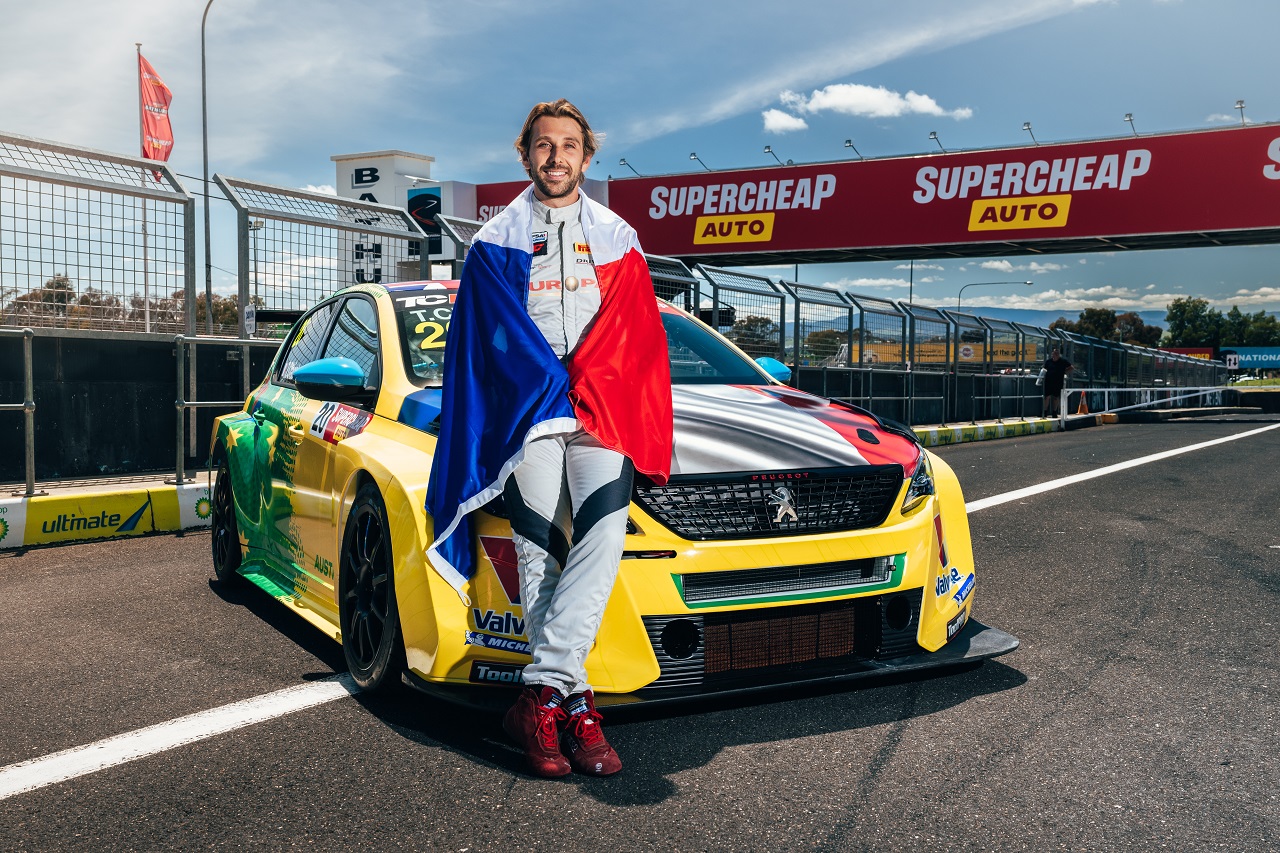 French Brothers Teddy and Jimmy Clairet will join the Supercheap Auto TCR Australia field when the Kumho TCR World Tour arrives in Australia later this year.
Meanwhile, Ben Bargwanna will continue his international journey with news that he will contest the final round of the TCR World Tour at Macau later this year.
Both announcements were made today at Sandown's Shannons SpeedSeries round ahead of the opening race in Round 6 of the Supercheap Auto TCR Australia Series.
The French Clairet brothers will share the Hangcha Forklifts Peugeot in the pair of rounds – Race Sydney at Sydney Motorsport Park and the Supercheap Auto Bathurst International – later this year, with the pair returning as teammates to Ben Bargwanna.
It is yet to be decided which rounds Teddy, 29, and Jimmy, 32, will contest this year.
Teddy raced at Mount Panorama in last year's Supercheap Auto TCR Australia finale, while Jimmy will make his debut on Aussie soil.
Meanwhile, Bargwanna has also confirmed he will switch his regular Burson Auto Parts-backed Peugeot for the Hangcha Forklifts car to contest the final round of the Kumho TCR World Tour at the famous Macau Grand Prix circuit.
It will be Bargwanna's fifth TCR World Tour round of the year, having raced at Portimao, Portugal and Spa Francorchamps in Belgium earlier this year, plus the two Aussie rounds.
Both announcements were made during this weekend's sixth round of the Supercheap Auto TCR Australia Series at Sandown Raceway.
The addition of the French brothers takes to 11 the number of international drivers currently confirmed for the two back-to-back events this November.
BEN BARGWANNA
"We've forged a great relationship with the Clairet brothers over the journey and they've become great friends," Bargwanna said.
"It's great to have both of them coming down for the two World Tour rounds – I think at the moment they're playing rock, paper, scissors to see who gets to race at Sydney and who gets Bathurst.
"It's great for the team to have them in the Hangcha car in a field that is getting more and more competitive by the day.
"And then I get to go and do Macau, which is pretty incredible.
"It's one of the most famous races so to have the chance to go and compete there is something we had to grab when Hangcha, who are a Chinese company, came on board. I'll jump from the Burson car to the Hangcha car and go and have a crack.
"It's one of those iconic races that is on the bucket list of loads of drivers so it's very cool to know I'm going to go there and race in the final round of the 2023 TCR World Tour.
"The end of my year will be Sydney, Bathurst, Macau and Adelaide in the S5000. It's a pretty incredible way to finish the year, for sure!"
TEDDY CLAIRET
"For sure, we are really happy to be able to come back in Australia and join again the fantastic atmosphere over there!
"We met the Bargwanna's last year, and we had a good relation from the scratch.
"Then we had really good times in Portimao and Spa together, we are sharing same philosophy of racing, so when the opportunity of coming for the two Australian TCR World Tour rounds appeared, it was impossible to not take it.
"With Jimmy, we don't know yet who will compete at SMP and in Bathurst but the global experience will be awesome for us and we are looking for it!
"Then we will go to Macau with Ben so it's an incredible journey for all of us I would say! In the end, we are really happy to see again this part of the world and we can't thank enough the GRM crew, the Bargwanna's and Hangcha of the course for the opportunity.. Let's race!"