Clay Richards to Drive Hangcha Forklifts Peugeot at Sandown
August 25, 2023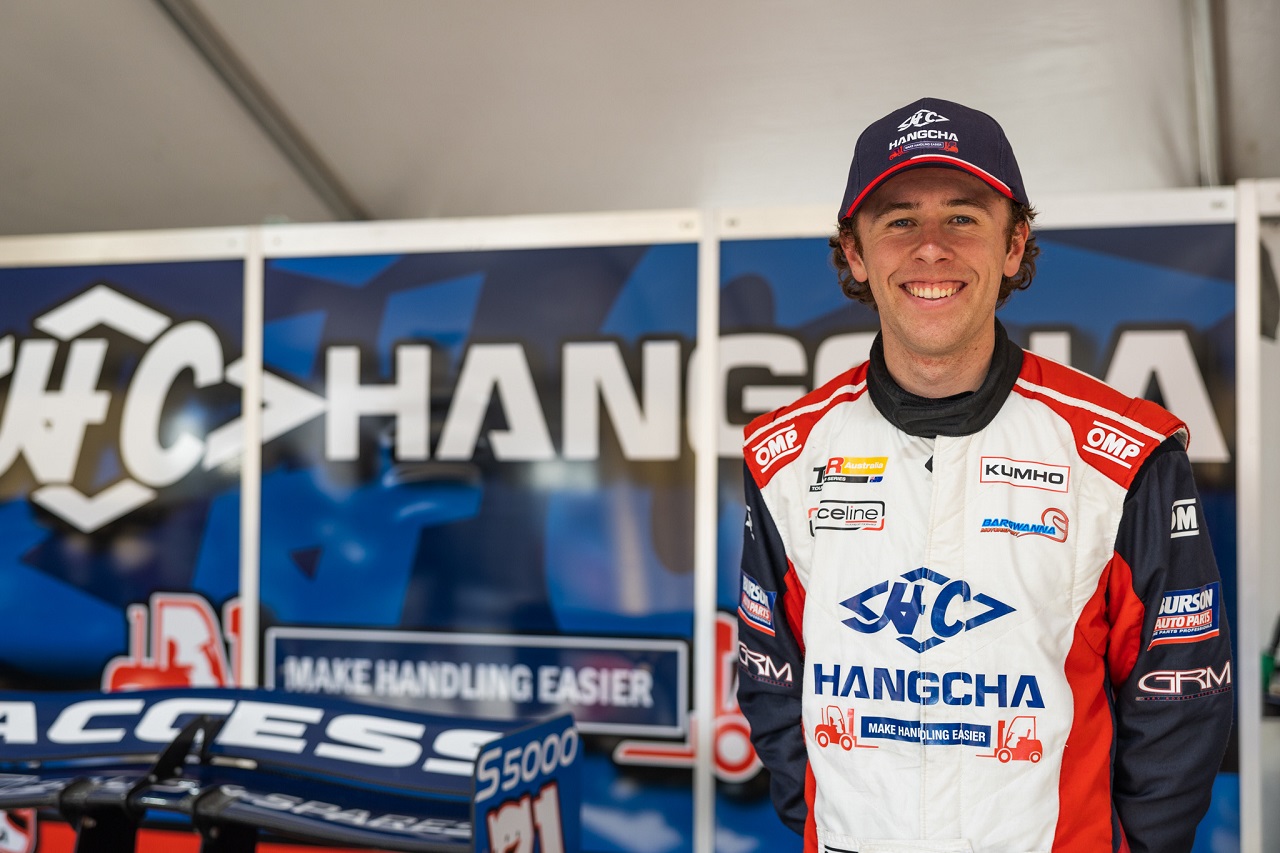 Just like the late-1990s, the Bargwanna and Richards teams will partner once again at Garry Rogers Motorsport next month.
Bargwanna Motorsport, run by Bathurst 1000 winner Jason Bargwanna and his son racer Ben, are entrusting third-generation driver Clay Richards in their Hangcha Forklifts Peugeot 308 TCR for Round 5 of the TCR Australia Series at the historic Sandown International Raceway.
Richards, 23, is part of Australian motorsport royalty. His father Steven is a five-times Bathurst 1000 winner and his grandfather Jim is a seven-time winner of The Great Race.
Richards will drive the Hangcha Forklifts Peugeot as part of a five-car team, run by Garry Rogers Motorsport. The team's line-up includes Ben Bargwanna in his Burson Auto Parts Peugeot entry.
The famous GRM team is synonymous with developing the next generation of driving talent.
In fact, both Steven Richards and Jason Bargwanna can credit GRM for giving them their first major motorsport opportunities back in the mid-1990s.
Steven was recruited by GRM in 1995 for the team's Super Touring efforts, before it stepped up to the Supercars Championship in 1996 with Richards at the wheel.
Two years later, Jason Bargwanna was given his first full-time driving chance with GRM, and even co-drove with Jim Richards at GRM in the 1998 endurance races, finishing third in the Bathurst classic.
The Sandown TCR Australia event will mark the first time since that 1998 race that the Bargwanna and Richard families have teamed up.
In June, the younger Richards made his Supercheap Auto TCR Australia Series debut at Winton, highlighted by scoring second place in Race 2, driving a Melbourne Performance Centre-prepared Audi RS3 LMS TCR.
The Peugeot 308 TCR has continued to be a competitive weapon in the 2023 TCR season and is expected to be a weapon at Sandown where Bargwanna scored his maiden Supercheap Auto TCR Australia race win in spectacular fashion last season.
Sandown International Motor Raceway hosts the next round of the Supercheap Auto TCR Australia Series on September 8-10.
QUOTES
Clay Richards
Hangcha Peugeot 308 TCR
"It's a great opportunity to partner up with Hangcha and Garry Rogers Motorsport in the Peugeot for Round 5 of the Supercheap Auto TCR Australia Series," Richards said.
"It's great to have the Richards name back at GRM. My dad raced with Garry Rogers Motorsport when he first entered Supercars and also my grandad as well. It's great to partner up with the Bargwannas, Benny and I've got to thank Jason for the opportunity, it's really exciting.
"I absolutely loved my time at Winton. Getting a podium on debut was really cool and to also get this chance with Garry Rogers Motorsport as well.
"Our expectations were never to get a podium at Winton at my first round of the Supercheap Auto TCR Australia Series, but we just learnt as much as we could and the reverse grid race was really good to us, so to come away with second was an awesome result.
"Sandown is a happy hunting ground for the Peugeots, with Ben getting a win there last year but my main focus is to learn as much as I can as the 308 TCR is a lot different to the Audi I drove at Winton."
Ben Bargwanna
Burson Auto Parts Peugeot 308 TCR

"It's one of those things in history that comes full circle and it doesn't happen very often, it's very exciting," Bargwanna said.
"We have a very good relationship with Hangcha and to stick Clay in the other Peugeot, he can get a taste of what I've been driving all year, which will be exciting.
"It will be great to work with Clay and he will really benefit having a big team around him. But once we get in the cars, the gloves will definitely be off, and we'll be going head-to-head!
"Clay is talented, he's a good driver and he held me off pretty well for a podium spot at Winton, so he can do it. I think he'll do just as good a job at Sandown in the Peugeot."
Jason Bargwanna
Team owner, Bargwanna Motorsport

"Once we were able to sit down and talk to Hangcha about what we were doing here to put the program together, there was a point where I was actually going to pull out the helmet and have a go," Bargwanna said.
"But when I watched Clay drive at Winton, he became an obvious choice. The plan was to give a young guy a go, Garry (Rogers) gave me a go many years prior, he did the same for Steven, and Jim and myself finished on the podium at Bathurst.
"Watching Clay through karts, Formula Ford and Toyota 86s, he was an easy choice.
"I think it's going to be exciting for him to debut in the Hangcha Peugeot at Sandown."