Dalton's Weekend of Firsts Highlights GRM's Race Winton
June 13, 2023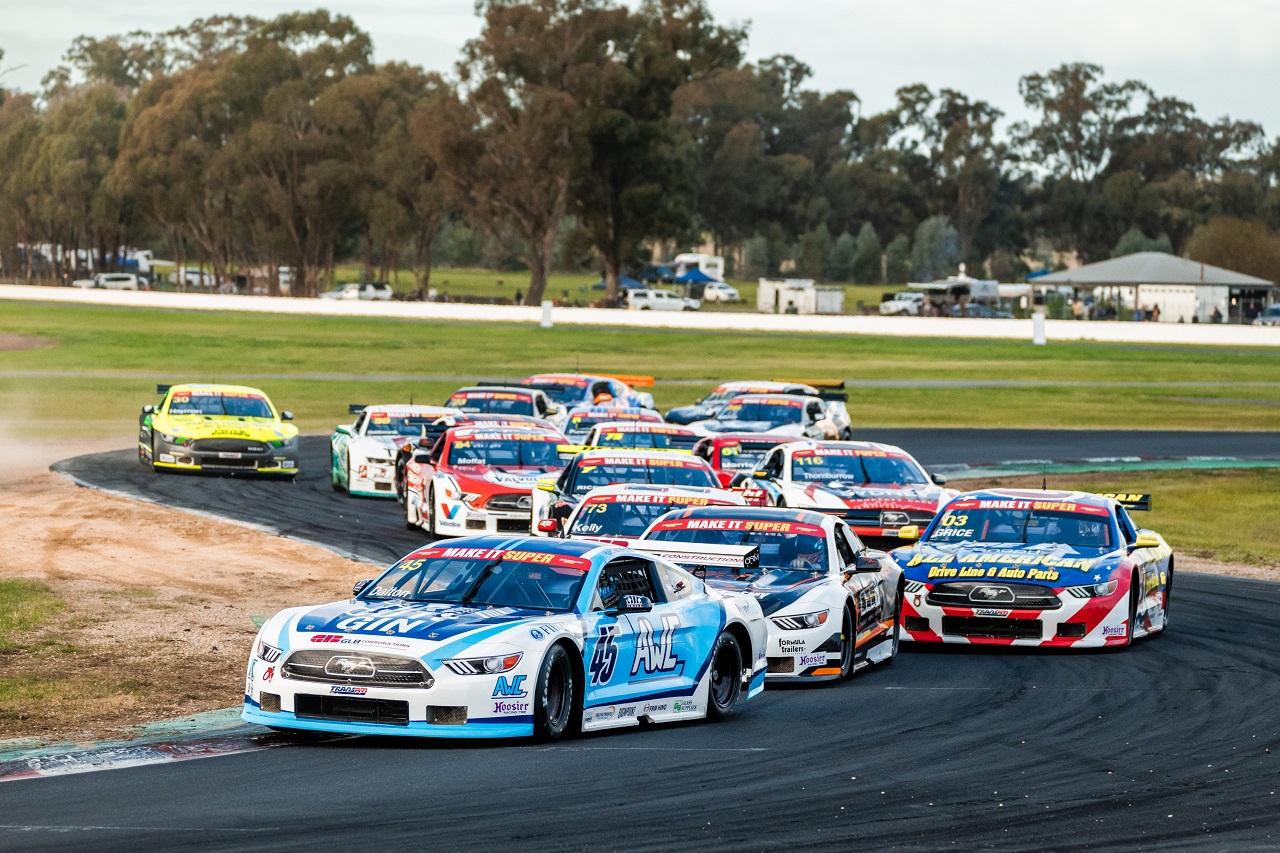 A maiden pole, race win and clean sweep for Lochie Dalton has proved the highlight for Garry Rogers Motorsport at a chilly Race Winton weekend.
Trans Am
After James Moffat set the pace in Friday practice, it was Dalton who stunned the field with a pole time almost four tenths up on the next best. Owen Kelly set an impressive early lap which stood the test of time to earn fourth on the grid, as he sat the remainder of the session out with a broken axle. Moffat ended up fifth fastest with Edan Thornburrow lining up in ninth.
Overtakes were hard to come by around a tight Winton Motor Raceway, but that didn't stop Thornburrow from rising up four places to earn a fifth-place finish in race one, just ahead of Moffat in sixth. Kelly was enjoying a strong run, but his race was derailed by a late puncture. Dalton was untroubled up front, skipping away to win his first race in the category.
Race two saw the rise of Moffat to the third step of the podium with Thornburrow getting the elbows out to bring home sixth. Kelly started from the back and sliced his way up the order to finish in 10th. Dalton continued to look like a seasoned pro out front, taking victory once again.
To wrap it up, Dalton and Moffat delivered the team a 1-2 finish after the pair survived a late race restart. The longer than usual 40-minute race did no favours to Thornburrow who'd just moved into fourth when his gearbox let go, forcing him into a retirement. Kelly was in the thick of the action, recovering from being spun out to finish in sixth.
His performance across the weekend have allowed Dalton to close within 9 points of Moffat for the series lead, with the pair a comfortable 60 points clear of the next driver. Kelly has moved back to fifth, recovering from dropped points at Phillip Island, while Thornburrow's double dose of gearbox problems this year have left him 14th.
S5000
It was the final time S5000 would race alongside Trans Am and TCR this year, and also the last outing for James Golding in the 2023 season. Jimmy kicked off the weekend in fine form with pole position, while Aaron Cameron slotted himself into third place. Jordan Boys lined up fifth for race one with Nic Carroll in eighth, bouncing back from a sprained hand after a practice incident.
Race one was adventurous, with Cameron unleashing his inner NASCAR with his own rendition of the 'pass in the grass'. A late restart saw Golding and Cameron go for a synchronised excursion through the turn 1 and 2 infield, with Cameron making the overtake on his teammate in the process. Boys cut through the field to finish in fourth-place, Cameron claimed fifth with Golding seventh and Carrol eighth.
Race two somehow topped that with a sizeable accident at the first corner wiping out most of the field, leaving five cars left, with GRM's four drivers surviving the carnage. Golding would take second from Cameron late on, with the pair both stepping on the podium, while Boys and Carroll duked it out to finish in fourth and fifth.
There wasn't a lot of movement in the final race, with Golding, Cameron and Boys retaining their positions and Carroll slipping back to eighth after some great battles.
TCR Australia
It was a tough weekend for our Peugeot quartet. Cameron started race one from sixth place, ahead of Ben Bargwanna and Jordan Cox in seventh and eighth, with Kody Garland in ninth.
In race one Bargwanna, Cameron and Garland made contact with each other in the run to turn one which damaged Garland's splitter, leading to a 12th place finish. Cox jumped away to finish in fifth, with Bargwanna in seventh. Cameron came home in 14th.
Cox was on a charge in race two but a late spin dropped him off the podium, going on to finish in 13th. Cameron gained six places to finish in eighth ahead of Bargwanna in ninth. Lap one damage again for Garland left him in 12th.
Race three was Garland's time to shine, starting from last he raced up seven spots to finish in seventh. Cox moved forward six places as well, coming home in fourth position. Bargwanna and Cameron battled it out for much of the race, finishing in ninth and tenth.
Our next event will be with S5000 at Sydney Motorsport Park as part of the Supercars Beaurepairs Sydney SuperNight.