GRM Star in Wild Weekend of Racing
May 17, 2023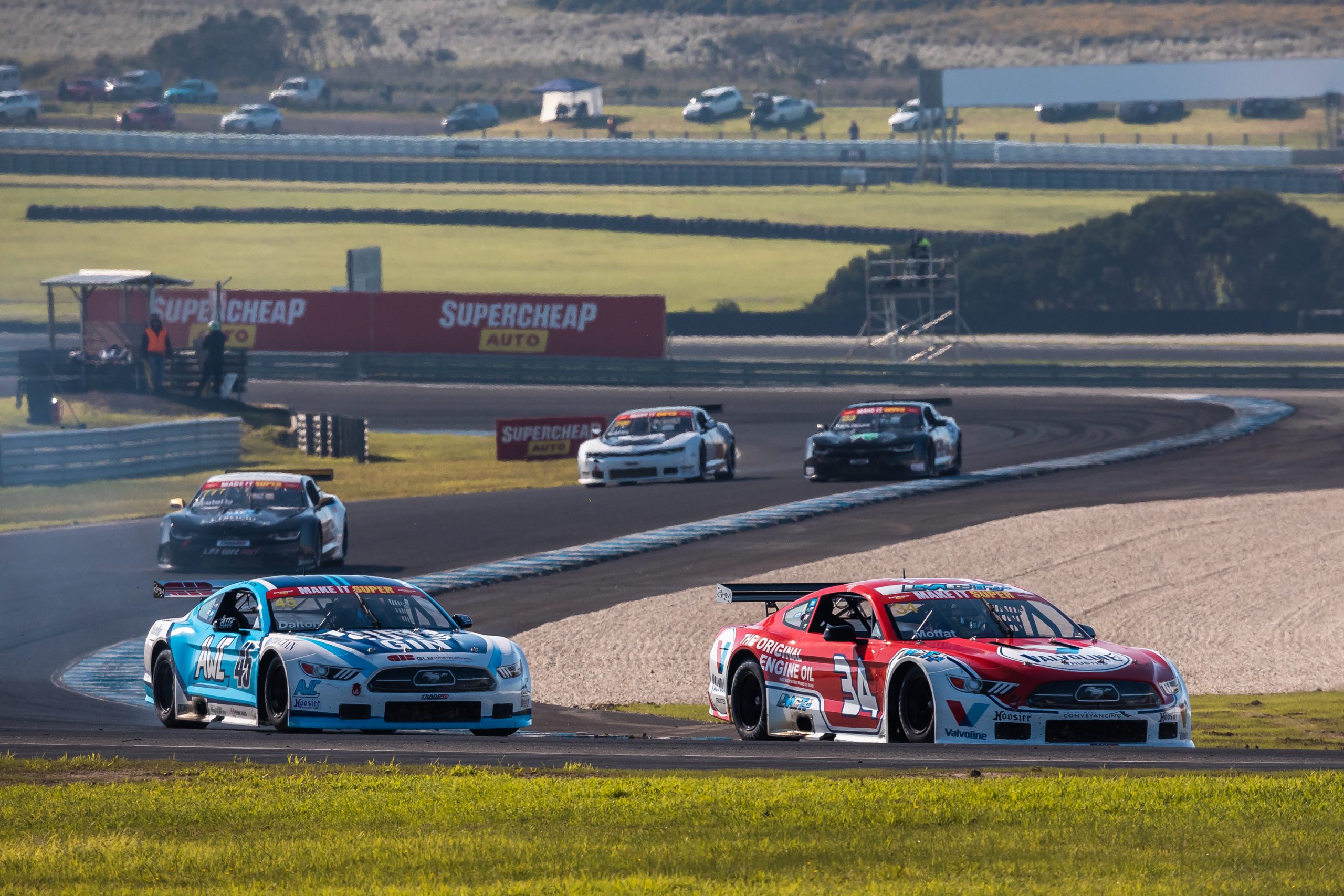 Our stable of drivers have taken centre stage on what was an incredible weekend of racing at Phillip Island for round two of the Shannons SpeedSeries.
TCR Australia
What a turnaround it was for our quartet in the Peugeot's, after a tough couple of practice sessions on Friday. Aaron Cameron and Ben Bargwanna both made it through to Q2, with Cameron taking seventh on the grid for race one with Bargwanna in 10th. Kody Garland just missed out on a spot in the second part of qualifying while Jordan Cox ended up 13th on the timesheets.
Race one was the scene of an epic charge from Cameron to claim the third step on the podium, with Bargwanna and Cox both gaining five spots to finish fifth and eight. Garland was on the forward march as well, rising up four spots to seventh.
The top 10 were inverted to form the race two grid, and Cox took the opportunity with both hands. The Schaeffler driver featured in an epic race long fight for the win, coming up just short after getting bumped on the final lap. Bargwanna joined his teammate on the podium with third place, Cameron came across the line in sixth and it was ninth for Garland.
To round out the weekend it was another epic battle, this time with Bargwanna winning out in a fight for third place with Cox right behind in fourth. Cameron and Garland both had the elbows out in the Valvoline entries, finishing sixth and 12th.
The results have seen Cox and Cameron occupy second and third in the championship heading to round three of the season.
Trans Am
Potentially the greatest round of racing that Trans Am has ever seen, and it was our drivers at the forefront of the action. A dramatic opening race saw Owen Kelly run away with victory after unfortunate mechanic black flags for James Moffat (while leading) and Lochie Dalton (while running second). Edan Thornburrow finished up fourth in the opening race.
In race two we witnessed greatness, an instant classic as a host of drivers squabbled for the race win right from the opening lap. While all that was happening, Moffat had applied the afterburners and drove from last to finish in third place, Dalton also charged from the back to finish in eighth.
Kelly and Thornburrow were nose to tail fighting for the win when contact saw Kelly spinning into the wall. The ensuing interview will doubtlessly be replayed many times over as we continue on in the season…. Nevertheless, Thornburrow went on to claim his maiden podium in Trans Am with a second-place finish.
Unbelievably, race three managed to be even crazier. Moffat started from sixth and made quick work of moving into second place. From there the Valvoline driver applied what would normally have been an insurmountable amount of pressure, but race leader Nash Morris did a commendable job to hang on. A last-ditch effort saw Moffat cross the line just 0.04 seconds behind the winner, the closest winning margin in series history.
Dalton was less than a second behind in third place, haven charged his way through the field, ahead of Kelly who'd come from the back to finish in fourth. Thornburrow unfortunately picked up damage on lap one which forced him into an early retirement.
After two rounds, it's a GRM one-two in the points table with Moffat leading Dalton.
S5000
Things were, slightly, calmer in S5000. James Golding and Aaron Cameron were inseparable from the outset, with Golding beating Cameron to third in qualifying by just 0.07 seconds. Jordan Boys qualified in sixth with Nic Carroll in eighth.
Cameron had leapfrogged Golding in race one, with the pair scrapping over the podium places all race until Golding stole it from the Team Valvoline driver on the final lap. Carroll enjoyed a positive race as he moved forward to sixth, but unfortunately Boys suffered a retirement after just four laps.
Race two carried it's fair share of drama with Cameron being one of two drivers to cop a five second time penalty, which demoted him to seventh place. Golding was able to cut through to finish in second place, just six tenths shy of victory. Carroll broke through for a top five result, narrowly beating home Boys in sixth.
The weekend wrapped up with another hard fought race, Golding completing his run of podiums finishes with another third place result ahead of Cameron in fourth. Carrol and Boys were locked in combat once again with the pair finishing line astern in sixth and seventh.
All in all, the action certainly made up for the 11 week break between rounds! Fortunately, we won't be waiting quite as long for round three, which takes place at Winton Raceway from June 9-11.