GRM Win in Trans Am and TCR with Podiums in S5000
February 28, 2023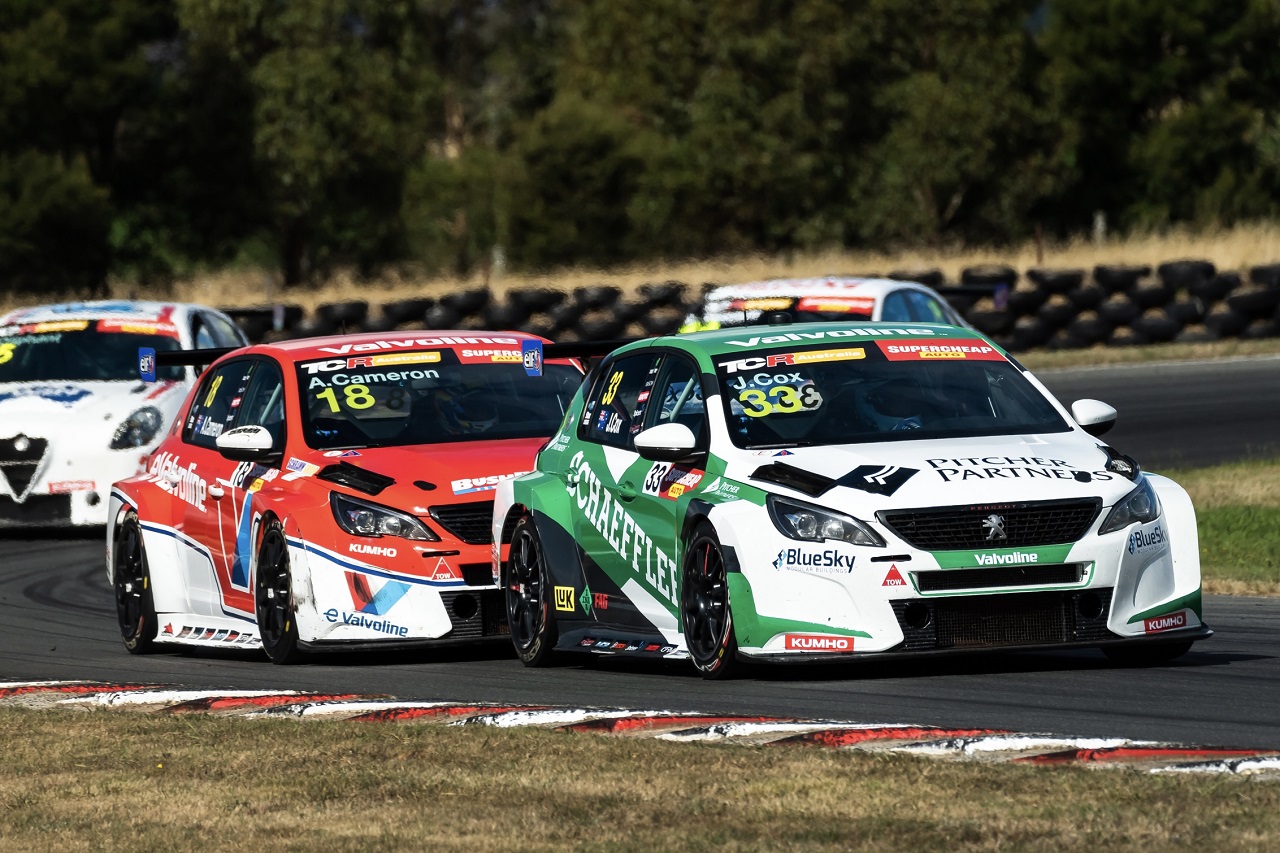 The season has kicked off in fine form with GRM claiming a top three lockout in Trans Am, a victory in Supercheap Auto TCR Australia and multiple podium finishes in S5000.
TCR Australia
Qualifying saw our quartet of drivers in TCR Australia line up in formation on the grid, with Aaron Cameron in fifth ahead of Ben Bargwanna in sixth, Kody Garland in seventh and Jordan Cox in eighth.
The opening race of the year brought a breakthrough for Garland who surged his way on to the podium, with a third place finish, the first of his career in TCR Australia. Bargwanna applied the pressure but couldn't find a way past, finishing in fourth place just ahead of Cox in fifth and Cameron in eighth.
The top 10 on the grid were inverted for race two, handing Cameron a third place start. A fast launch moved the Valvoline driver up to second before an entertaining battle for the lead went the way of Cameron who skipped away to win his first race of the season. Cox charged his way through the pack to finish in third place, making it two GRM drivers on the podium. Garland battled hard on his way to 10th place after getting shuffled down the order thanks to the grid inversion, while Bargwanna was running solidly before a fault ground his car to a halt with a lap to go.
Race three concluded the weekend with Cox battling his way to another third place finish, just beating Cameron to the line who finished in fourth. Garland bounced back from a challenging race two to finish in sixth while Bargwanna moved through the field and finished in eighth place.
The results mean Cameron is third in the points standings, with Cox just behind in fourth. Garland sits in seventh with Bargwanna 11th due to his DNF.
Trans Am
James Moffat picked up right where Herne left off in the Valvoline Mustang, sweeping the race victories with a perfect 200 points to start the season.
Moffat was unlucky in qualifying, missing out on pole position by just six thousandths of a second. Lochie Dalton qualified an impressive third, a new best for the AWC driver. Owen Kelly put himself fifth on the grid ahead of GRM debutant Edan Thornburrow in sixth.
A lightning start enabled Moffat to take the race lead at turn one in the opening race, from which he never looked back. Kelly battled his way through to finish in third place, with Dalton in fifth after he was hung out to dry amidst some fierce battling. Thornburrow had climbed into the top five but dropped down the order to 13th after momentarily getting stuck in gear exiting the hairpin mid-race.
Race two brought the team a podium lockout, led by Moffat who won again in the Valvoline #34. Kelly and Dalton moved up in unison to finish in second and third. Thornburrow looked set to make it a top four lockout as he sat in fifth at the halfway mark, unfortunately the race was then red flagged for an incident which curtailed his charge from outside the top 10.
Moffat completed his weekend sweep in race three, with Dalton picking up a second place finish. Kelly was running in the top three before he slipped off the track, he charged back to fourth but received a post-race penalty for last lap contact which saw him finish in seventh. Thornburrow caught another dose of bad luck, sitting in sixth position before he was pushed off the track and demoted to 12th.
The results mean Moffat leads the championship ahead of Dalton in second place, Kelly in fourth and Thornburrow in sixth.
S5000
The field in S5000 was closely contested all weekend, but especially in qualifying where half a tenth was all that denied James Golding pole position, with Roberto Merhi (P3), Aaron Cameron (P4), Nic Carroll (P6) and Jordan Boys (P7) all less than half a second off the pole time.
Pre-race mechanical drama's forced Golding and Merhi to start from the back, from which they charged back to fifth and ninth respectively. Cameron utilised the opportunity as he drove his way to a second place finish, ahead of Boys in fourth and Carroll who finished seventh on debut.
Golding and Merhi scythed their way through the field in race two to finish in second and fourth, in front of Boys in fifth, with Cameron coming undone off the line and battling back for a sixth place finish ahead of Carroll in seventh.
The weekend concluded with Golding, Merhi and Cameron putting on a show in their battle for the final podium places. In the end Golding won out to finish in third with Merhi fourth and Cameron fifth. Boys completed a solid points weekend with a seventh place finish and Carroll came home in ninth.
Golding sits third in the Australian Drivers' Championship after the opening round, just 10 points ahead of Cameron in fourth. Boys and Merhi are separated by just one point in fifth and sixth with Carroll only 13 points further in eighth place.
The series resumes for all three categories in 10 weeks' time at Phillip Island on May 12-14.