Herne Departs for American Shores
January 12, 2023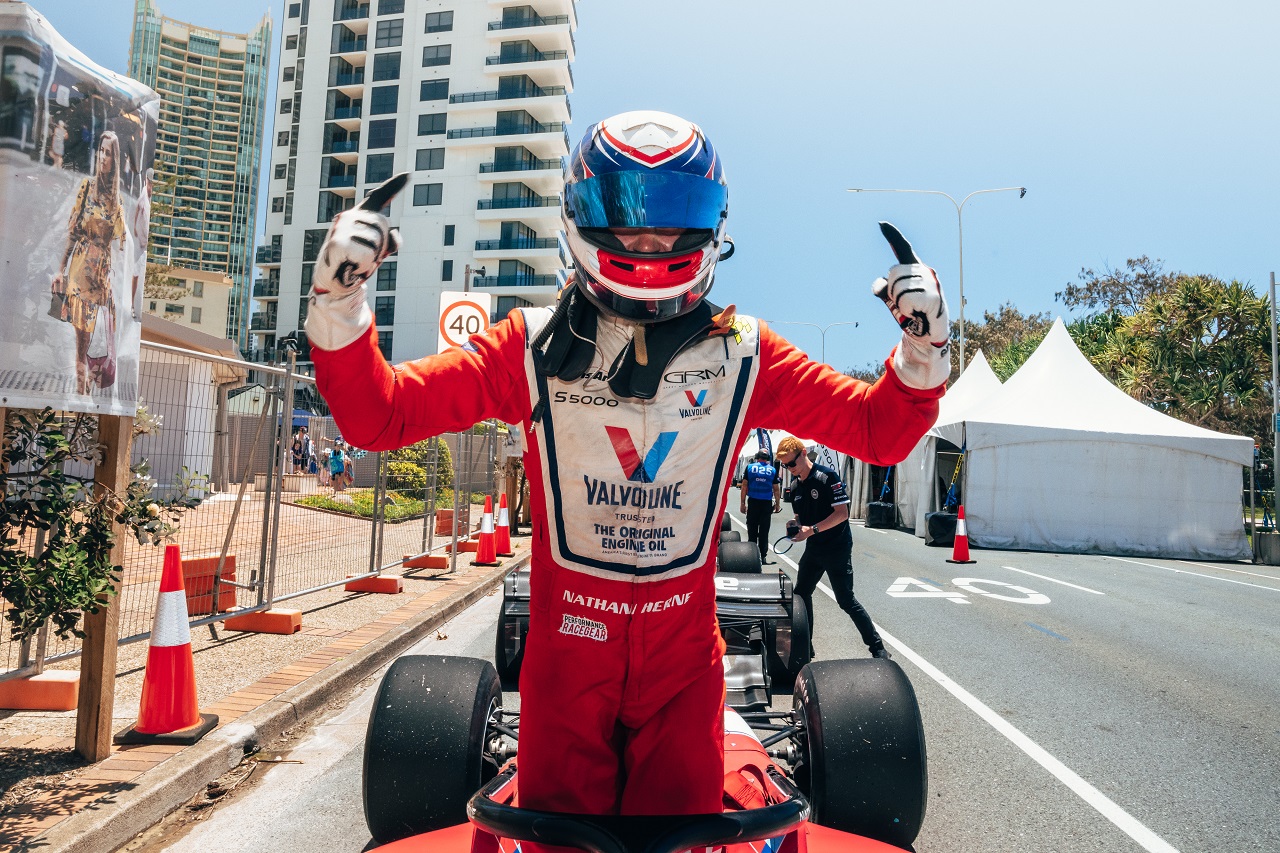 Two-time Turtle Wax Trans Am Series champion Nathan Herne will leave Australian shores in 2023, bound for his first full attack on the American Trans Am Championship.
Herne, 20, will drive for Stevens-Miller Racing, the same team that he raced with in his one-off drive at the Circuit of the Americas in November where he finished a sensational fourth on his international motor racing debut.
The Stevens-Miller team has also confirmed that architectural and interior design company CUBE 3 will be the title sponsor of Herne's 2023 racing program.
The Lismore, NSW born and raised driver will set off to the States in January where he will call both Indiana and Michigan home.
He will split his time between the two famous states with Indiana being the home of Stevens-Miller Racing, while he will also reside in Michigan, close to the base of Howe Racing Enterprises, the constructors of the chassis that he will drive in the American Trans Am Championship.
Like his efforts in the Australian Turtle Wax Trans Am Series, Herne will drive a Ford Mustang-bodied TA2-specification car.
The actual car he will drive will be brand-new, built by Howe Racing Enterprises to the latest-spec.
It has been a successful, and at times tumultuous rise for Herne to reach the new heights of 2023.
Herne finished rookie of the year in the TA2 Muscle Car Series back in 2019 and, after the COVID-induced break in 2020, was set for a debut in the Bathurst 1000 that year, only to be rejected due to a shortfall in Superlicence points.
He bounced back by stepping up to the national Trans Am title, winning the 2021 and 2022 titles with Garry Rogers Motorsport.
Two weeks ago, Herne also wrapped up the prestigious S5000 Tasman Series for GRM.
The American Trans Am Championship regularly features big fields of cars, contested by young aspiring stars and full-time professionals.
The 2023 American Trans Am Championship will feature 12 rounds, competing at some of the great racing circuits of the USA including Sebring, Road America, Mid-Ohio, Watkins Glen, plus the Detroit and Nashville street courses supporting INDYCAR.
The championship kicks off at Sebring on February 23-26, 2023.
QUOTES
Nathan Herne
Driver, American Trans Am Championship
"It doesn't feel real to be honest, I don't know how to feel right now. Joe Stevens and Howe Racing are really putting all their eggs in my basket to try and win the 2023 title, so it's daunting, but also pretty cool," said Herne.
"They want to get the championship. It is very competitive over there, and there are a bunch of NASCAR teams now putting their junior drivers and main game drivers in the category to groom them for NASCAR. NASCAR is going more towards the road course route and TA2 over there is the biggest road racing series they have, so it's a bit of a pinch yourself moment to think I'll be in the category in just under 2 months time.
"I've had a taste of the racing and the class at COTA, and it was very eye-opening. It was the first time in my racing career that I'd thought "gee, I could be out of my depth a bit here," but I went well in my first race. I proved that I was one of the fastest drivers there, and I want to put in a good fight for the championship.
"I don't want to set any expectations. I know I'm going to give it everything I have, and if worse comes to worse, I'll come back to Australia with a years bucket list ticked off, but best case, I stay in the states and build on a great year and make the most of the opportunity.
"There's some huge names coming next year. Richard Petty's grandson is driving. Being in Australia, you look at the Americas and you think that racing there is unattainable. Now to have the chance to be racing against some bloody good drivers is a pinch yourself moment.
"we've worked hard to make it happen. Stevens-Miller and Howe have moved heaven and earth for me to be there, so I want to reward them with results.
"Trans Am in Australia has been big for me. I started in TA2 in 2019, when the series itself was starting to gain momentum and then I cut my teeth in the ARG Trans Am series, and it was a lifesaver. I couldn't afford to go to Supercars – I never had the finances, so Trans Am was a lifesaver. The series has grown in Australia and you can see that it is making big strides. Personally, it is the category that has given me a shot at a career in the sport, where otherwise I would be out.
"I can't thank GRM and Valvoline enough for giving me a shot and keeping me racing. I don't know how to pay everyone back who has helped me get this far in Australia, I don't think I will be able to. I just appreciate everyone's help, and hopefully Trans Am becomes a pathway for young guys coming out of Formula Ford, not everyone can afford the big-budget categories, and I guess you can say I'm being a guinea pig for the guys like myself to push and break through the hurdles here in Australia. I think what I am doing proves that this is a genuine pathway for young drivers, the worlds a big place and we do forget that, I never thought America was an option, and I was bloody stressed midway through the year about how I sat in the Australian Motorsports landscape, although the Trans Am series has put me on this pathway, so I just have to sit down and strap in and see where this leads to."
Joe Stevens
Owner, Stevens-Miller Racing

"I am excited to announce that Stevens-Miller Racing (SMR) has partnered with the talented professional driver Nathan Herne for the upcoming 2023 TA2 season," said Stevens.
"Nathan brings a wealth of racing experience and impressive accomplishments to our team, and we are confident that his skills behind the wheel will propel us back to winning championships.
"Additionally, we are thrilled to expand our partnership with CUBE 3 as our newly appointed title team sponsor. With their innovative designs and our dedication to pushing the limits of what is possible in motorsports, I believe that our collaboration will be nothing short of exceptional. I look forward to seeing the results of our team's efforts and can't wait for the season to begin.
Barry Rogers
Garry Rogers Motorsport
"We are tremendously proud of what Nathan has achieved during his time with GRM which all began back in 2020 when we tested him in a Supercar," said Rogers.
"Nathan had just turned 18 years old, and Garry was so impressed with Nathan that it motivated him to enter a Bathurst Wildcard.
"Unfortunately, Nathan was not given an exemption for a Superlicence although only 1-point short of automatically qualifying for one and the opportunity to race at Bathurst was gone. Subsequent rule changes to the Superlicence system that required drivers to compete in Super2 saw Nathan's opportunity to race at Bathurst dissipate as the funding for such a program was not available.
"Nathan put his head down and bum up and showed immediately his driving talents in Australia's fastest race cars, the S5000's and dominated the past two Trans Am seasons. We are so happy that Nathan has been given an opportunity in the US and it illustrates to young drivers there are many opportunities out there for those who have the talent and not necessarily the budget.
"Nathan joins a long list of ex-GRM personnel to head overseas to further their Motorsport careers including James Small (Nascar Crew Chief), Ian Studley (F3 and GT lead mechanic), Pierre Luigi Orsi (Mercedes F1 engineer), Dexter Chiew (Alpine F1), Chris Harris (Renault F1) and Scotty McLaughlin (INDYCAR driver)."