AARON CAMERON REVEALS FIA MOTORSPORT GAMES LIVERY
September 17, 2022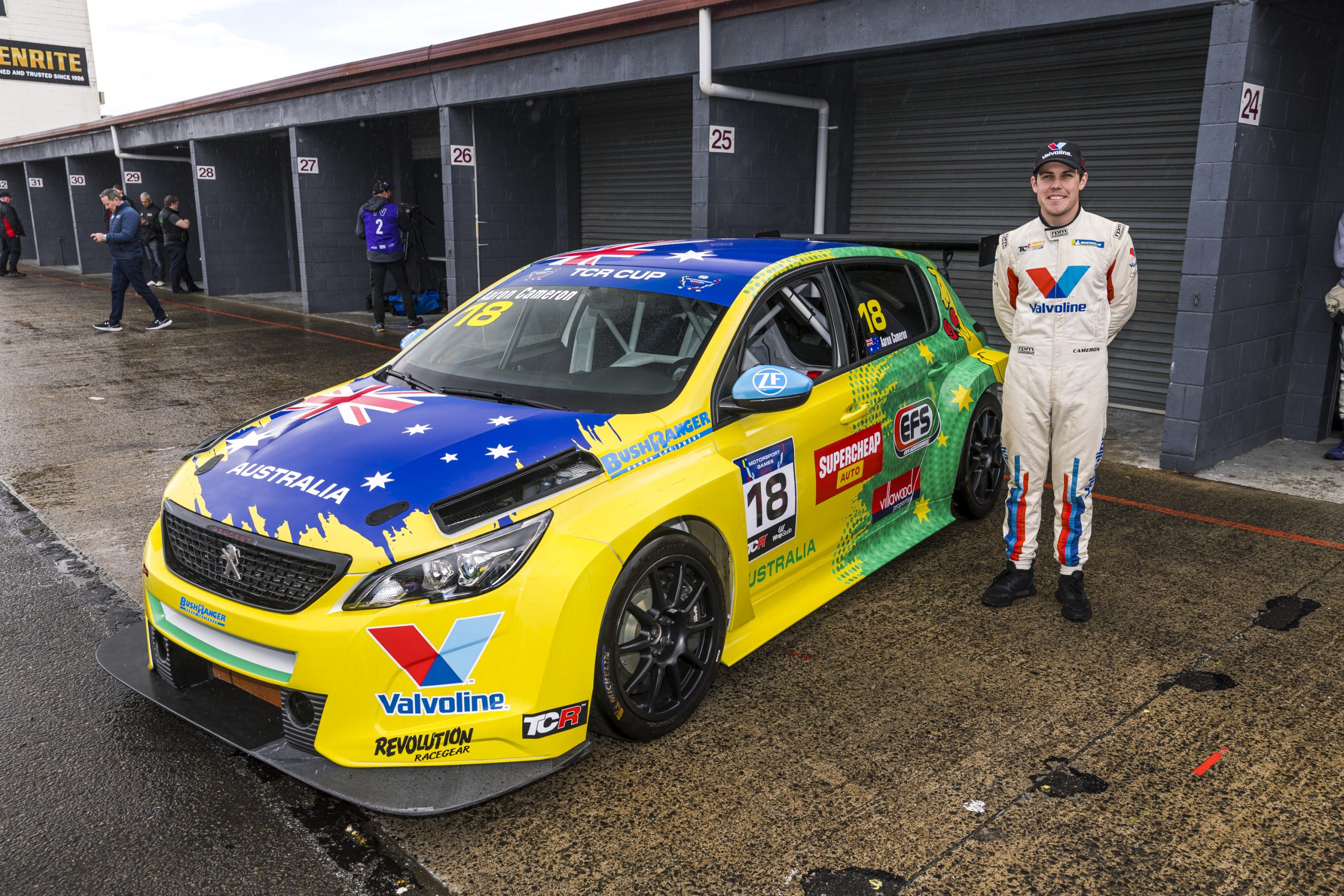 After confirming his participation in the FIA Motorsport Games earlier this month, Supercheap Auto TCR Australia race winner Aaron Cameron has revealed the livery he will race with at Paul Ricard in France.
Cameron will enter the event in a Peugeot 308 TCR prepared by Team Clairet Racing as he aims to win either a Gold, Silver or Bronze Medal in France next month.
Featuring a predominately green and gold livery, the Peugeot Cameron will drive also includes an Australian flag on the bonnet in addition to a larger version on the roof, plus the trademark boxing kangaroo on the rear flanks.
"I'm really looking forward to it," said Cameron.
"I'd like to thank Motorsport Australia, which have chosen me to represent Australia and have a go at this event where it's one person from each country in each discipline.
"I think we're going to have a really strong team go across and hopefully bring some medals in Australia.
Cameron revealed his preparations for the event have started and Team Clairet Racing will assist at a circuit it achieved a podium result at during last year's TCR Europe round.
"Paul Ricard is a big circuit so I'll watch some footage from previous races and the team has been really good in providing footage with exact same car I'm racing over there and what I've raced for the past couple of years, so it's not much different in that regard," he stated.
"It'll be the long corners at Paul Ricard that will be slightly different, but we know the Peugeot loves fast, flowing, fast turns, so for me it's a tick, tick, tick for how fast the car should be."
In what is another step closer to his overseas FIA Motorsport Games campaign, Cameron detailed the livery he will race with at Paul Ricard.
"It's been a good month just fine-tuning and doing little bits," said Cameron.
"There are little bits I've seen the Groves do in previous years I wanted to use in my livery in some way as well as embracing the Australian green and gold, with also incorporating the FIA Motorsport Games guidelines.
"I hope everyone likes it as much as I do."
Further providing an insight to the program, Cameron explained the schedule of the TCR competition.
"It's actually going to be a five-day event for us overall," Cameron said.
"On the Wednesday, we've got the big opening ceremony for all the countries where we'll will get some nice photos in our team gear and Thursday is a rest day when we'll walk the track.
"Friday and Saturday have a practice session each, then Sunday is the big day, with qualifying, the Qualifying Race and the Feature Race when I'll be fighting for the Gold, Silver or Bronze Medal.
"I do really hope we can be up there and get something very cool."
Cameron's FIA Motorsport Games campaign occurs on October 28-30, with support from EFS 4×4 Accessories, Supercheap Auto, Valvoline, BushRanger Power Equipment, Villawood Properties and TRIAX Australia.