Highs and Lows on Queensland Raceway Return
August 10, 2022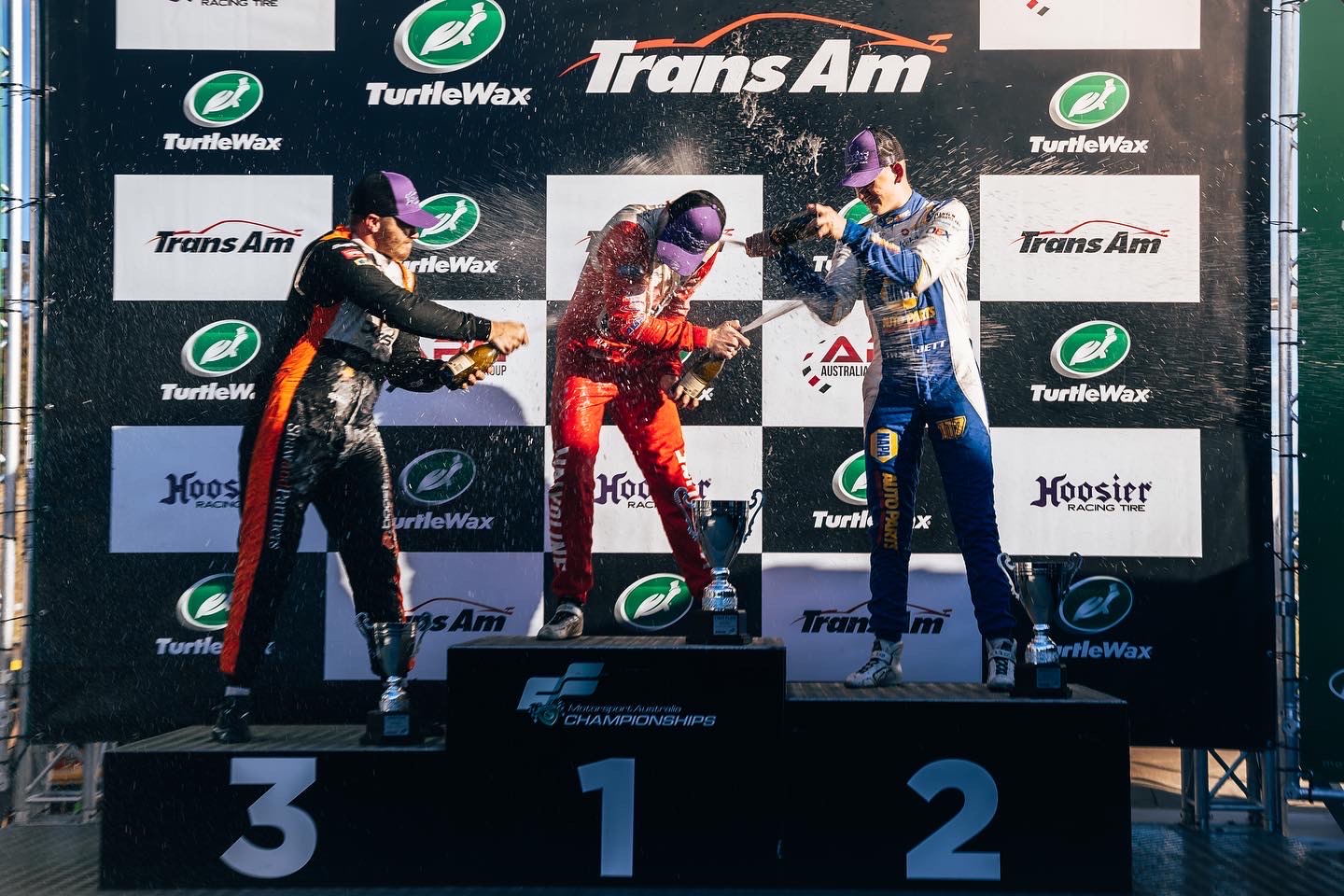 Our much anticipated return to Queensland Raceway was quite a rollercoaster with the round win in Trans Am, and a challenging weekend in TCR.
Trans Am
Following his disappointment last round, Nathan Herne struck back in the Valvoline Mustang to reclaim the series lead with one round to go. Owen Kelly copped a hit in race one that set him on the comeback trail for races two and three, while Lochie Dalton capitalised on the drama to claim fifth for the round.
It started off silky smooth with a front-row lockout, Herne leading Kelly, and Dalton not far behind after a wet session that challenged even the most experienced competitors. The joy only lasted to turn one however, with Kelly turned around and sent to the very back of the field. Dalton was one of the big beneficiaries, gaining seven spots to finish in fifth. Herne took the opportunity to run away out front and never look back, taking victory.
Kelly put in a mega drive in the second race to finish in third, only just snatching the final podium place from Dalton after the pair enjoyed a great battle while Herne won again. The last race of the weekend was the most straightforward, with Herne winning ahead of Kelly third and Dalton fifth.
The effect on the Championship is that Herne now leads with 912 points, and Kelly is second with 893 points, a maximum of 200 points are on offer at the final round of the season. Dalton made some big ground, jumping to 11th and just 20 points away from seventh.
TCR Australia
It was a challenging weekend for our team in TCR, with Jordan Cox making the most of it to put himself into second in the championship while the previous holder of that spot, Dylan O'Keeffe, fell to seventh.
Our leading car in qualifying was Aaron Cameron in seventh, with Ben Bargwanna the only other driver to get inside the top 10, in eighth. Remarkably for Cox, his run in the races came from 16th on the grid for race one.
Mechanical gremlins prevented Kody Garland and James Moffat from making the start of the opening race, while Bargwanna lost his brakes after contact which resulted in a crash. Aaron Cameron finished fourth but copped a post-race penalty which demoted him to 13th. O'Keeffe was out dragged to the line, costing him reverse grid pole, and resigning him to an 11th place finish.
The big positive for the race was the drive from Cox, charging up to finish sixth after penalties were handed out.
In race two Moffat took a leaf out of Cox's book, racing from the back to finish in seventh. Cox himself coming in fourth. Bargwanna and Garland both gained a handful of spots to finish 12th and 14th. There was more misfortune though, with Cameron's Peugeot misfiring on route to 16th and O'Keeffe suffering terminal radiator damage from an errant stone.
The final race capped off what was a very tough weekend for everyone with Cox our only driver inside the top 10 in sixth. O'Keeffe, Bargwanna, Garland and Cameron occupied position's 11, 12, 14 and 15 with Moffat relegated from the top five to 16th after a late power steering failure.
The weekend had quite an effect on our places in the standings, with Cox now our leading driver in second and 58 points from the top. O'Keeffe is now seventh, just 44 points behind Cox and 29 points ahead of Cameron in eighth. Bargwanna sits 11th, with Moffat 13th and Garland 21st.
Our next event will be at Sandown Raceway, from September 16-18. It will serve as the season finale for Trans Am and the penultimate round for TCR.