Stars Set to Shine in Sydney
May 26, 2022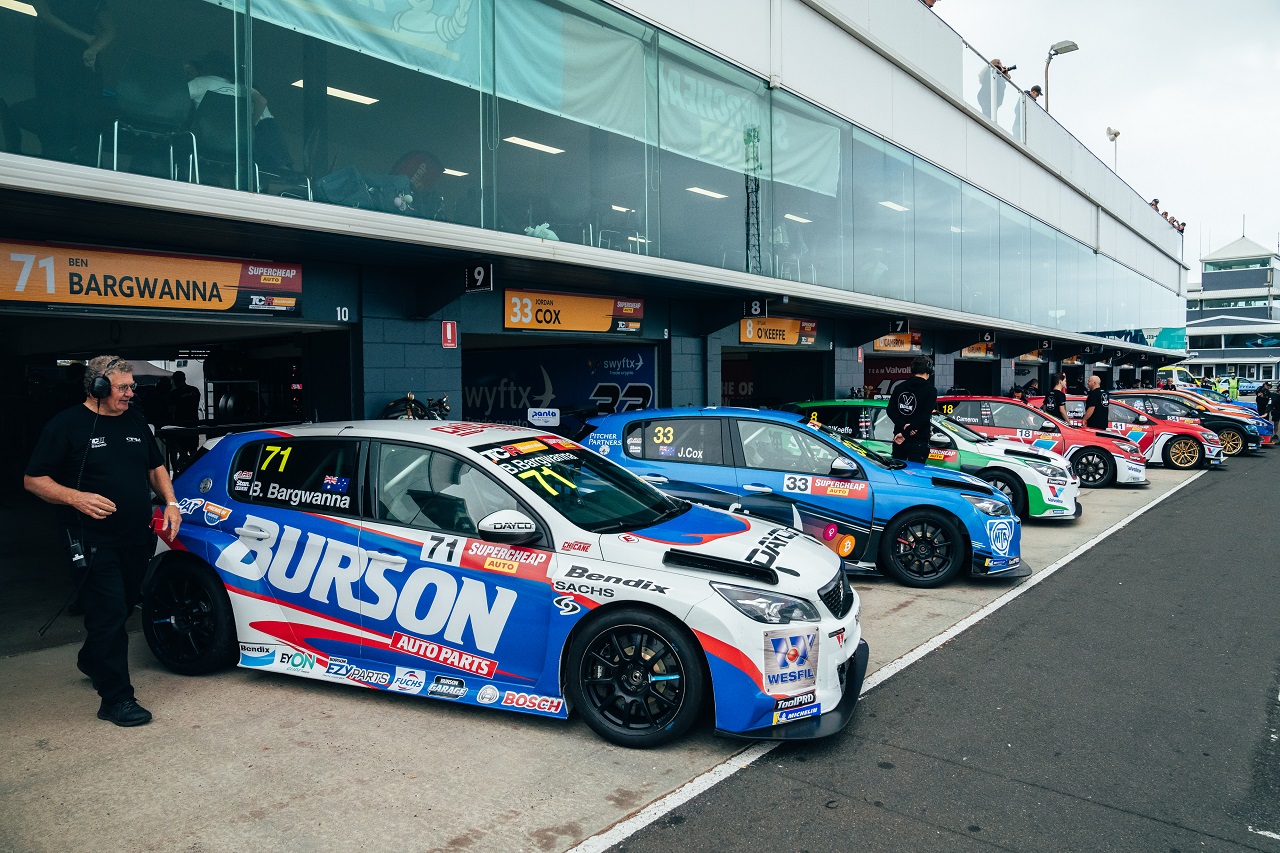 Stars will shine on the track and off this weekend at Sydney Motorsport Park when round three of the Shannons Motorsport Australia Championships runs into the night on Friday and Saturday.
Garry Rogers Motorsport will field 12 entries across three categories on the weekend, featuring our six full-time entries in TCR Australia, three full-time entries in Trans Am and our full-time S5000 entry of James Golding who will be joined by Aaron Cameron and Nathan Herne – both pulling double duty.
TCR Australia
The Drivers
Dylan O'Keeffe leads the charge in TCR competition this year, sitting third in the points in the Schaeffler #8 Peugeot despite not yet winning a race. Ben Bargwanna and his Burson Auto Parts Peugeot #71 sit right behind in fourth having twice finished runner up so far, most recently as part of a GRM 1-2-3 in the opening race at Bathurst. Aaron Cameron found victory twice on the Mountain but two DNF's this year leave him fifth in the standings, aboard the Valvoline #18 Peugeot. Three podiums including a win aren't enough to boost Jordan Cox and his #33 Swyftx Peugeot higher than eight in the points after he has encountered his fair share of issues in a few races so far. The top eight in the standings are covered by 62 points, with all of those drivers favourable to win the Championship as the series crosses the halfway point in the season.
The first of our Renault's is the #34 LMCT+ entry of James Moffat, 101 points off the series lead. Moffat's best round of the year came last time out in Bathurst, finishing top five in all three races and snagging position two in the second race. The second Valvoline entry, Kody Garland's #41 is 21st in the points, Garland's best result coming in race two at Phillip Island where he finished 14th.
The Form Guide
Good news for fans of our Renault entries, SMP was the scene of their best round in 2021. O'Keeffe who was driving what is now Garland's car put it on pole position. Moffat finished in the top five all weekend which was highlighted by a runner up result in the opening race, while O'Keeffe charged through the field after an issue on the grid in race one to finish on the podium in the final race.
Look for Moffat and Garland to be quick in their two Renault's and expect more of the same from the Peugeot's who have been strong all year.
Schedule
Friday
Practice 1 – 1:50pm
Practice 2 – 7:15pm
Saturday
Qualifying – 1:40pm
Race 1 – 6:45pm
Sunday
Race 2 – 11:20am
Race 3 – 4:10pm
S5000

The Drivers
Our full time entry of James Golding in the Valvoline #31 is currently fourth in the standings and 51 points away from the series lead. Four podiums which include a race win that came at Phillip Island have seen Golding contend regularly at the front. After making their 2022 debut's in the series at the Australian Grand Prix, Aaron Cameron and Nathan Herne return to S5000.
Cameron won the 2021 Tasman Series and picked up where he left off with a second, eight and fourth at the GP. Herne has a full season under his belt having finished sixth in the 2021 series, his appearance at the Grand Prix also netting a runner up finish alongside a sixth and a fourth.
The Form Guide
Sydney in 2021 saw James Golding win the round, claiming two race wins in the process. Golding and Herne qualified second and third, with Herne going on to finish fourth and sixth before a podium in the final race of the weekend.
All signs point to Golding and Herne being quick again, with Cameron a likely favourite to join them at the front.
Schedule
Friday
Practice 1 – 10:10am
Practice 2 – 1:20pm
Saturday
Qualifying – 2:15pm
Race 1 – 5:00pm
Sunday
Race 2 – 12:05pm
Race 3 – 2:15pm
Trans Am
The Drivers
Our Trans-Am trio have enjoyed a stellar year so far, with Nathan Herne sitting atop the Championship ladder with 19 point lead. Owen Kelly is not far back in third in his Fujitsu #73 while Lochie Dalton is eight aboard his upto11 #45.
Between Herne and Kelly, GRM have won the last six races in the series. Across the season Herne was won six times and stood on the podium on all nine times of asking. Kelly had a lacklustre run in Symmons Plains but since then has finished on the podium five times, with a race win to his name.
Dalton has finished in the top 10 every race, save for a DNF in the final outing at Bathurst. The highlight so far has been a podium in race three in Tasmania, which proceeded a strong run of consistent results around the top five.
The Form Guide
Trans Am visited Sydney twice in 2021, with six races in total. Herne picked up five podiums and a race win from the Sydney swing, while Kelly only attended the opening round which netted him a race win before a race two DNF forced him to charge from last to eighth in race three.
Dalton wasn't racing Trans Am in 2021 while Herne and Kelly weren't in GRM cars. It was Moffat and Jason Bargwanna who flew the GRM flag at the second Sydney round, both claiming two podiums and a race win.
It's looking likely for another standout performance in Sydney this weekend.
Schedule
Friday
Practice 1 – 10:40am
Practice 2 – 3:00pm
Qualifying – 6:25pm
Saturday
Race 1 – 3:15pm
Race 2 – 6:05pm
Sunday
Race 3 – 3:30pm