AARON CAMERON TAKES FINAL SUPERCHEAP AUTO TCR AUSTRALIA RACE AT BATHURST
April 17, 2022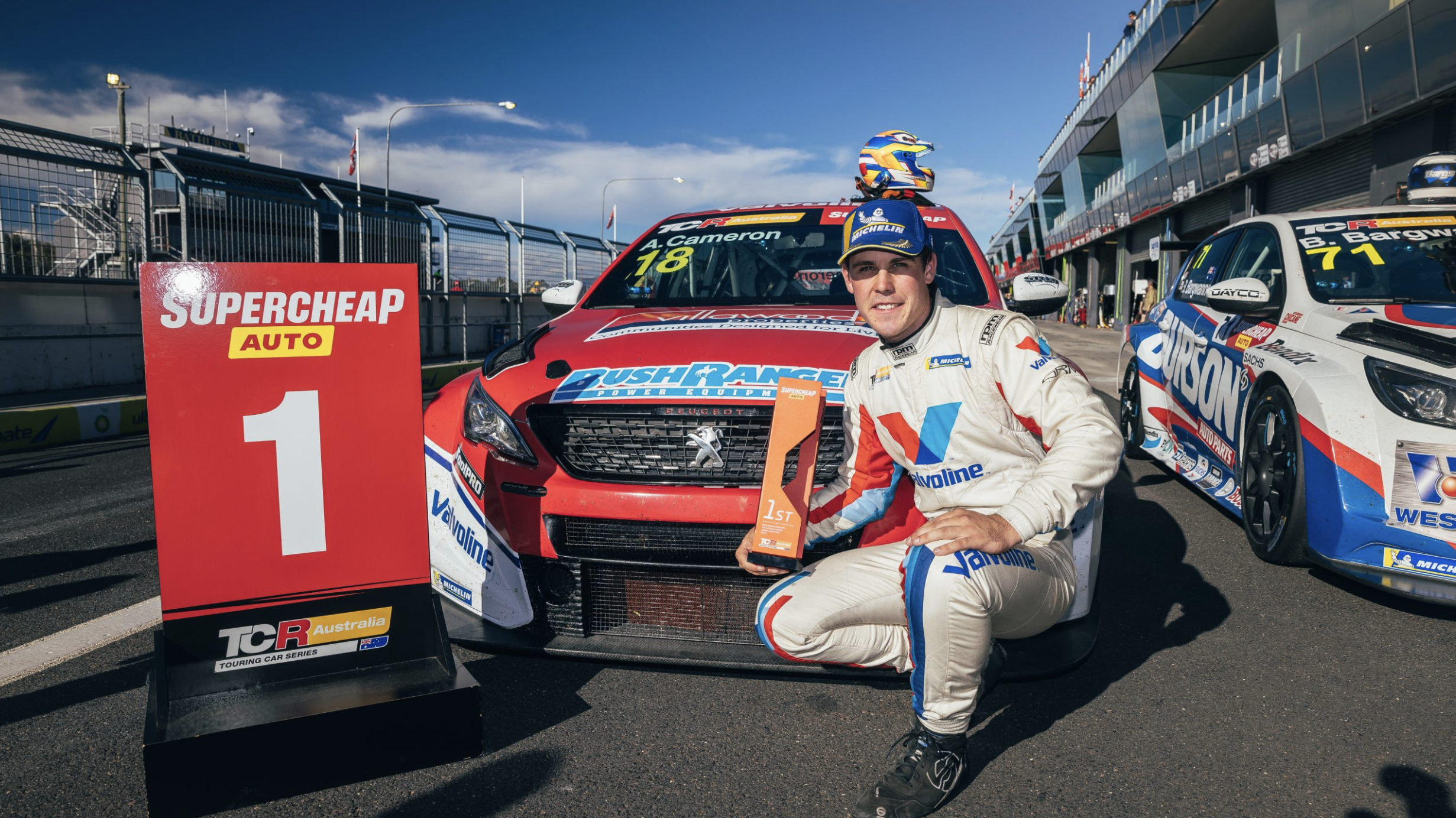 Valvoline Team GRM's Aaron Cameron has capped off a successful weekend for GRM by winning the final race of Round 3 for the Supercheap Auto TCR Australia Series at Bathurst.
Cameron led from start-to-finish in a dominating display, winning from HMO Customer Racing's Bailey Sweeny and Schaeffler GRM's Dylan O'Keeffe.
To keep updated with TCR Australia like us on Facebook and to view the latest images follow our Instagram.
Cameron won the start from polesitter LMCT+ Racing GRM driver James Moffat in his Renault Megane R.S. TCR as Ben Bargwanna in the Burson Auto Parts Peugeot and Dylan O'Keeffe went side-by-side through Hell Corner, continuing up Mountain Straight until the Schaeffler GRM 308 TCR took the ascendency at Griffin's Bend.
At the end of the opening lap Cameron held a 4s advantage as Moffat held back O'Keeffe, who completed a pass at Murray's Corner, however the LMCT+ Racing GRM Renault Megane R.S. TCR re-took the position at Hell Corner.
Moffat was holding back a freight train of entries as yesterday's race winner Bailey Sweeny attempted to overtake Bargwanna at The Chase, but hit the kerb, which sent him sideways momentarily.
Cameron held a comfortable 7s lead ahead of Sweeny, who in turn had gapped O'Keeffe as Brown and Buchan continued to battle, although the LIQUI MOLY Team MPC driver had a 5s penalty.
As for Swyftx GRM Peugeot driver Jordan Cox? Well, he didn't find it as easy as yesterday to move through the field, but did make his way to 10th by the race's conclusion.
But after setting a stunning pole position, it was Cameron in dominating fashion taking victory from Sweeny in a breakthrough weekend and O'Keeffe, who closes in on series leader D'Alberto.
Due to his penalty, Brown dropped to seventh elevating Buchan, Moffat and Bargwanna.
Completing the 10 were Shiels, D'Alberto and Cox.
D'Alberto still holds the series lead by 28-points from O'Keeffe and Brown is a further nine in arrears.
Supercheap Auto TCR Australia continues at Sydney Motorsport Park as part of a bumper Shannons Motorsport Australia Championships round on May 27-29.