Bathurst 6 Hour – Saturday Wrap  
April 16, 2022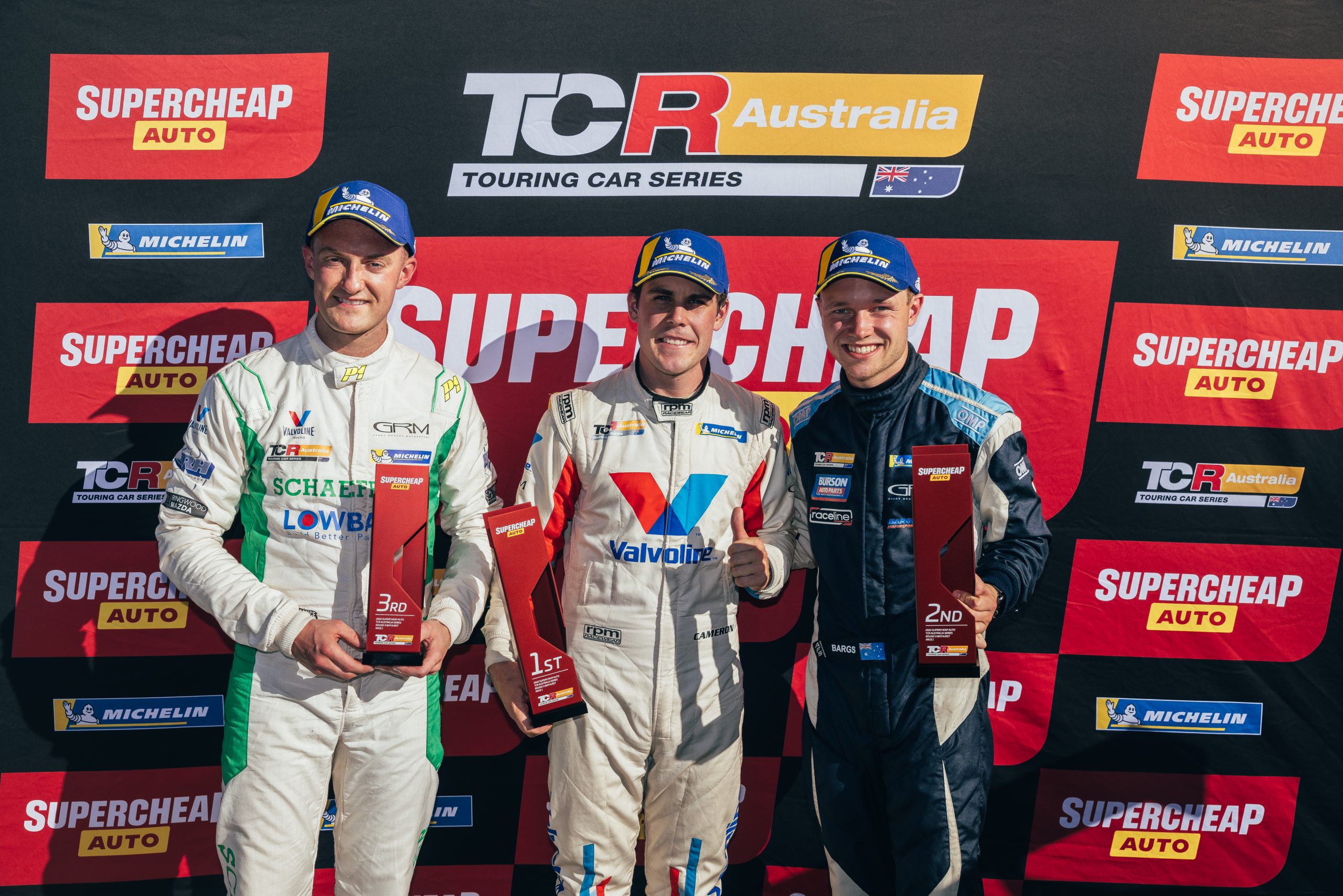 Another stunning day at the mountain set the perfect scene to begin the first day of racing for the weekend for the GRM crew.
The TCR Australia cars were first up in Qualifying 1 where Aaron Cameron dominated both Q1 and Q2 with some blistering laps around the Mount Panorama circuit. He secured the Astrontech Pole Position Award following a mega lap of 2m 12.786. The rest of the GRM TCRs followed close behind in Q1 with Ben Bargwanna in P2, Jordan Cox in P3, James Moffat in P5 and Dylan O'Keeffe in P8. Kody Garland came home with P17.
As Aaron took pole, Jordan Cox followed in P2 but was later hit with a penalty. Ben Bargwanna completed the session in P3. Dylan O'Keeffe came in P5 and James Moffat an impressive P6 to start out his weekend.
Nathan Herne continued his dominance for the first Trans Am race of the weekend overtaking leader Tim Brook on lap 1 to finish in first. Owen Kelly finished his race in P4 and Lochie Dalton in P7.
In Race 1 of TCR Australia, GRM reigned supreme as the team took home a top three finish with Aaron Cameron leading the field. Cameron secured P1 from the first lap with Ben Bargwanna challenging at the start however Cameron maintained 1st place for the duration of the 9-lap race. O'Keeffe was followed by Moffat in P5 in the race. Jordan Cox was out on lap 5 due to an overheating issue with his car. Garland moved up to p17 after a great overtake on Mineeff.
Race 2 for the Trans Am had Nathan Herne once again secure a win. Kelly almost lost the rear on lap 4 but a magnificent save saw him retain his place and come home with P3. Lochie Dalton came in an impressive 7th in his Ford Mustang GRM car.
An epic final TCR race for the day followed a stunning Race 1 with a reversed top ten grid. James Moffat shone in his LMCT+ GRM TCR car making his way up to finish P3 by lap 2 and finishing P2 in what is his first podium of the year. O'Keeffe had a brilliant race following Caruso throughout making his way to P5 in the final race of the day. Cameron had an off but returned to track and came home with P9. Ben Bargwanna continued his great performance in his Burson Auto Parts TCR car, finishing P7. Cox had brilliant pace in his Swyftx GRM TCR car despite damage in Race 1, making his way to P11 on the grid. Kody Garland concluded his race at Mount panorama in P16.
Nathan Herne said: "Wrapped up day 2 here at Bathurst, it's been an awesome weekend so far; managed to roll out the Valvoline ford mustang out pretty quickly ever since then the car's been a dream to drive."
"We've done very minimal changes to the car, and it just seems alive with everything we throw at it, so, so far so good, really positive weekend for the whole team. We had 2 GRM cars up on the podium so it was really good to have Owen up there with me, so we'll press on for tomorrow. Tomorrow's a points paying race and we'll try and extend the championship lead even more," he said.
James Moffat said: "Obviously a really big turnaround for us; we were nowhere in practice on Friday so just super proud of the boys for not giving up and making set up changes that really improved our car overnight."
"We were able to qualify well, maintain position in the first race and had a bit more of a go in the opening couple of laps of that second race. So, a lot of fun, Sweeny was very fast; we didn't really have anything for him but yeah, we just keep pushing with our Renaults and we'll get there eventually," he said.
The final races will take place tomorrow with Trans Am Race 3 at 9:20am and TCR Race 2 at 10:10am. Catch it all on Stan Sport.