Formula 1 Australian Grand Prix – Friday Wrap  
April 8, 2022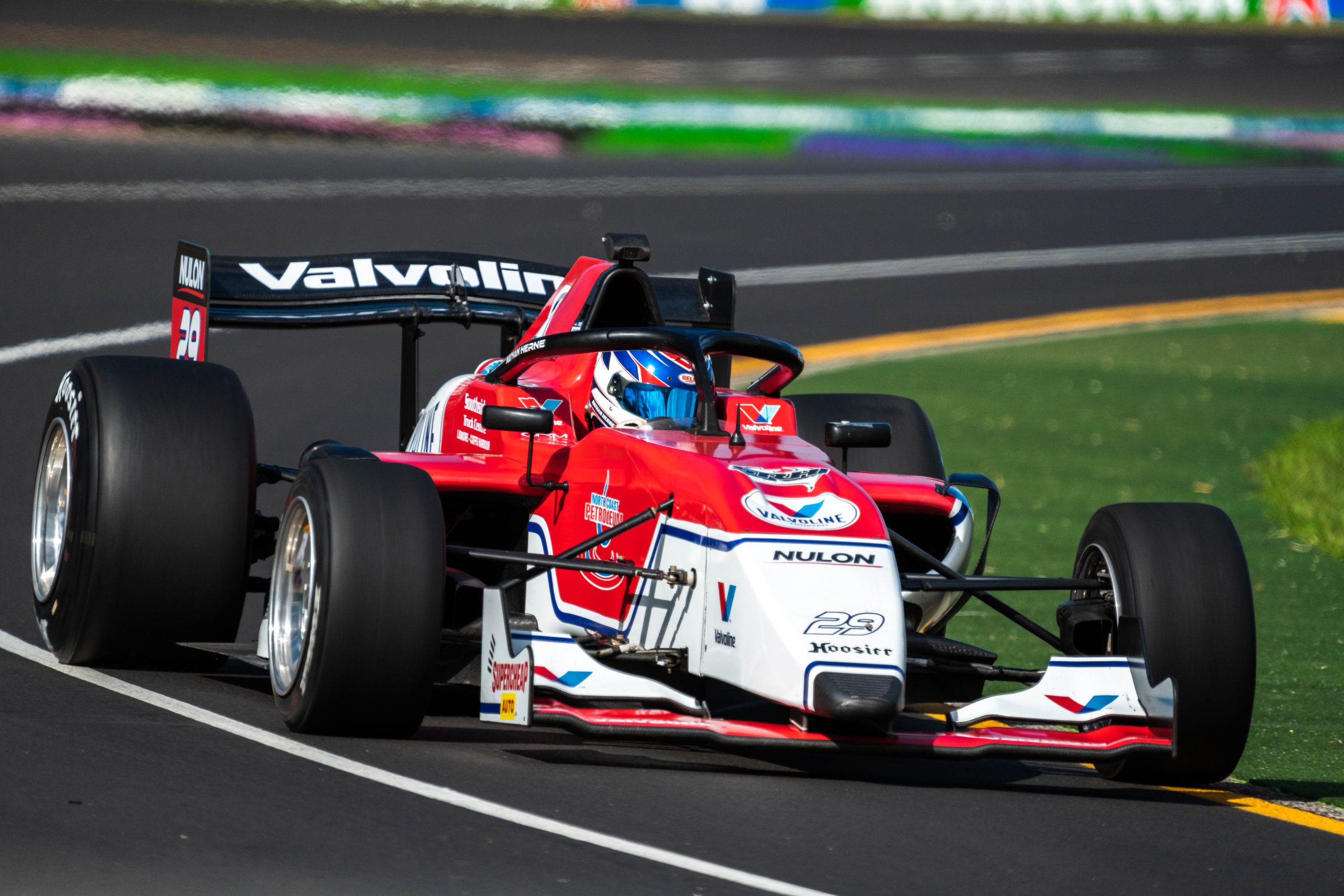 The second day of on-track action at the Formula 1 Australian Grand Prix saw the S5000s take to the Albert Park Grand Prix Circuit for their first race of the weekend.
Aaron Cameron led the fleet of GRM S5000s, starting his race in P2 after a terrific qualifying session on Thursday. He was followed by James Golding starting his race in P3 and Nathan Herne in P4. 
The rest of the GRM squad saw Ben Bargwanna begin in P7 whilst Adam Garwood and Sebastian Amadio started their first race of the weekend in P15 and P16 respectively. 
After a brilliant start in his Team Valvoline GRM car, James Golding unfortunately dropped back after a spin that saw him briefly leave the track on Turn 3. He made his way back to finish his race in P8.
Nathan Herne moved up the pack and ran in second place behind Joey Mawson on the first few laps where he later finished his first 2022 S5000 race in an impressive P4. 
Aaron Cameron secured his brilliant second-place finish after catching up to race leader Joey Mawson with some exciting moves on the final few laps of the race.
Ben Bargwanna continued his impressive weekend run finishing in P9 followed by Adam Garwood in P11 and Sabastian Amadio in P13. 
James Golding, Team Valvoline GRM driver said: "Race 1 finished up there had an awesome start and then went down the outside of Joey on Turn 3 and anticipated a bit more grip than what there was and speared off."
"Went back a couple of spots and then had to climb my way back from there so that made it hard but we got back to 8th and focussed on points." 
"All is not lost, reverse grid up next. Certainly, early on in the weekend the last race is what were really focussing on so press on a do a better job next time," he said. 
Nathan Herne, Team Valvoline GRM driver said: "Race 1 ended up P4 which is pretty good, I struggled with the car a lot throughout this weekend with the track obviously changed; a lot of different rubber compounds out there from this weekend and it's obviously a brand-new surface." 
"The track is very hard to read, it's very hard to get a good set-up so we'll work harder, and we've made a step in the right direction. Probably went a little too far in the right direction but for tomorrow I think we'll just wait and see what the track does and with F1 rubber on track it's going to be a completely different circuit to race so we'll just wait and see how we go tomorrow," he said. 
Tomorrow the S5000s will begin their reversed-grid (top 75% from qualifying), second race of the weekend at 17:15 and on Sunday the final race will start at 10:25. Make sure to tune in!