Saturday – Phillip Island Round-Up
March 19, 2022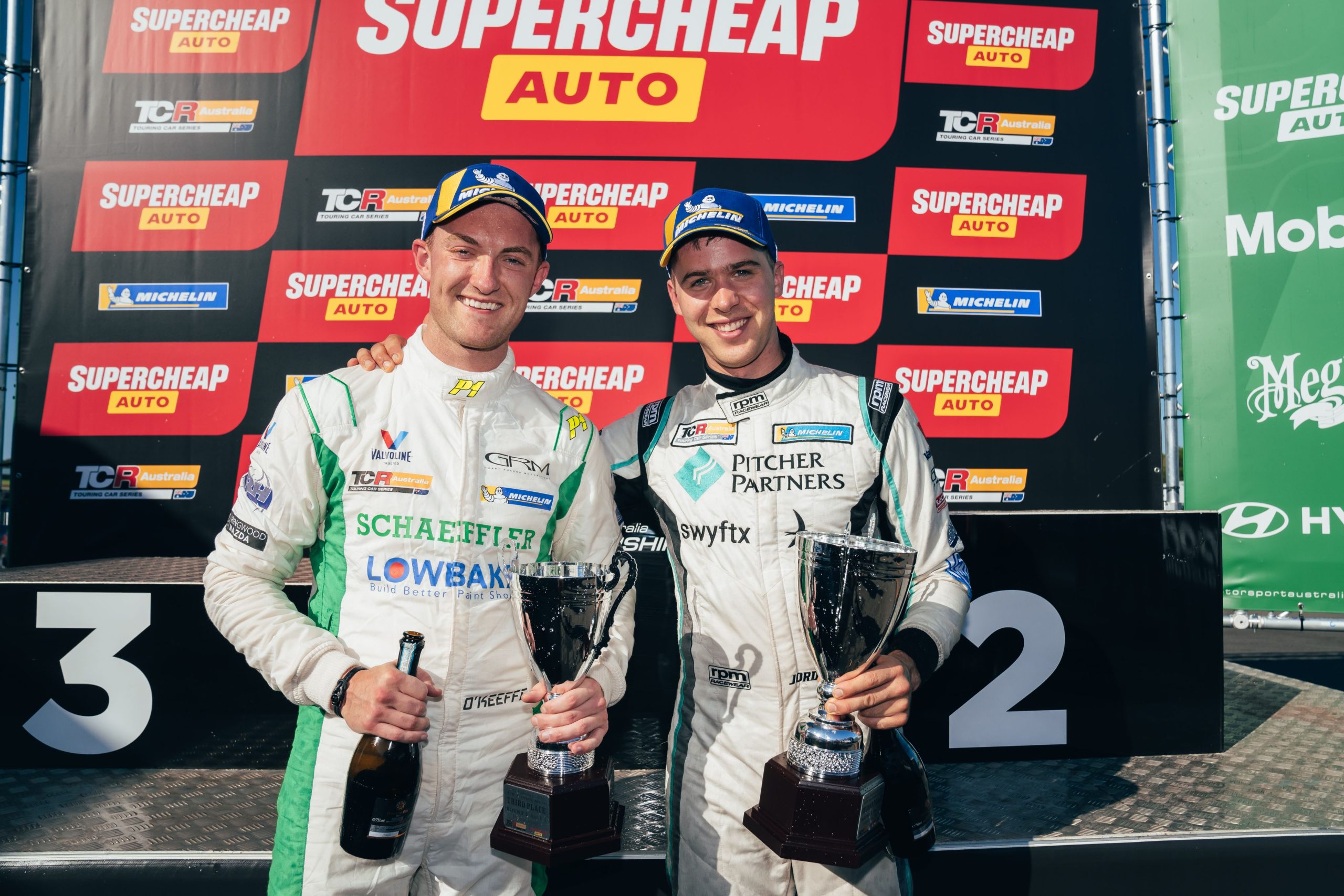 A beautiful day at Phillip Island saw GRM bring home some wonderful results in the second round of racing.
Qualifying for the Trans Ams ended prematurely with a red flag halting the session resulting in combined times from yesterday's two practice sessions being used to determine the first race grid. Team Valvoline GRM driver was set to begin Race 1 in second place, Owen Kelly in 4th and Lochie Dalton close behind.
The TCR cars yielded great results. Qualifying sessions saw Dylan O'Keeffe in his Schaeffler GRM TCR car qualify in 3rd and Jordan Cox in his Swyftx TCR Car in 5th. Ben Bargwanna in his Burson Auto Parts TCR car came in 11th followed by Aaron Cameron in 16th, rookie Kody Garland in 18th and James Moffat in 19th.
In the first race for the S5000s, James Golding dominated the grid leading since lap one and finishing in P1. Adam Garwood completed his race in 7th place overall.
Reigning champion Nathan Herne won the first of the three Trans Am races for the weekend. With a clean start to the race, Herne's first few laps saw him in 3rd place behind Owen Kelly who later went to 3rd. Dalton followed in 4th in his UP2/11 GRM Ford Mustang. Herne took the lead on the final lap of Race 1 making for a thrilling closing. Owen Kelly finished in an impressive third place and Lochie Dalton in 7th.
The reversed grid second race of the S5000 Australian Drivers Championship saw Golding finish 5th place and Adam Garwood in 8th in the first few laps.
The last race of the day, Race 1 of TCR, saw Jordan Cox finish come in 2nd with Dylan O'Keeffe following in 3rd  in his Schaeffler GRM TCR car. Aaron Cameron completed an impressive first race of the second round making his way up the grid 10 positions to finish in 6th place overall. He was followed by Ben Bargwanna in his Burson Auto parts TCR car finishing in the top ten and will now start Race 2 on pole with the reverse grid start tomorrow. Kody Garland finished his race in 16th behind James Moffat in 12th place.
The final races for the last day of action at the Phillip Island round will take place tomorrow:
| | | |
| --- | --- | --- |
| | | |
| | Turtle Wax Trans Am Series | |
| | Turtle Wax Trans Am Series | |
| | | |
| --- | --- | --- |
| | | |
| | Supercheap Auto TCR Australia Series | |
| | Supercheap Auto TCR Australia Series | |
| | | |
| --- | --- | --- |
| | | |
| | S5000 Australian Drivers Championship | |