JORDAN COX DOUBLES UP IN SUPERCHEAP AUTO TCR AUSTRALIA FINALE
December 4, 2021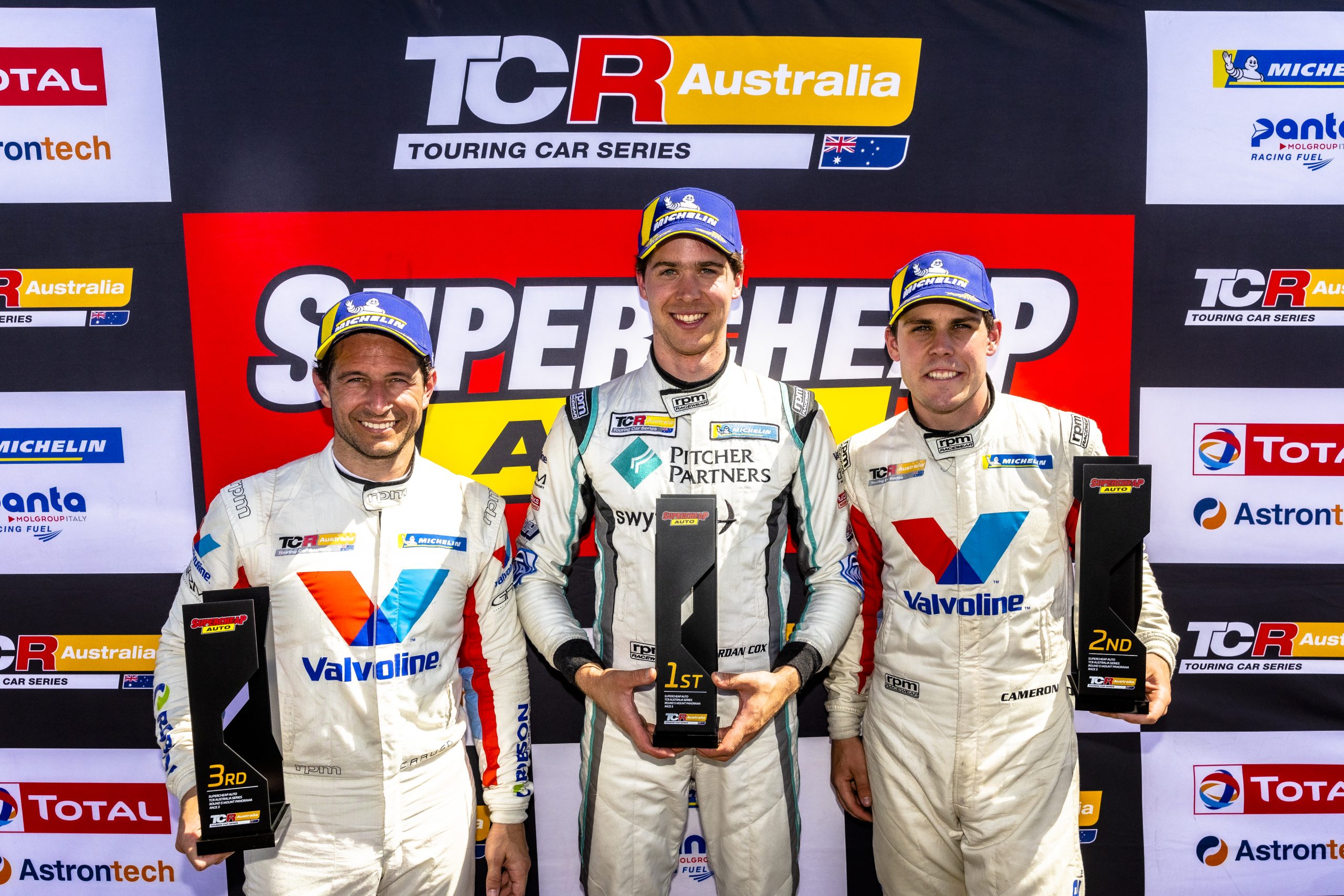 Swyftx-supported Garry Rogers Motorsport driver Jordan Cox has held out a late charge from Aaron Cameron to win the final Supercheap Auto TCR Australia Series race of the season.
Cameron made one of his usual fast starts in the Team Valvoline GRM Peugeot 308 TCR to lead into Turn 1 as it was James Moffat in the lead Renault Megane R.S. making moves, passing Jason Bargwanna on Mountain Straight, then Cox at The Chase.
Behind the lead quartet, a battle was raging between Wall Racing's John Martin, Burson Team GRM's Ben Bargwanna and stablemate Michael Caruso, with the Honda dropping position to both on lap 3.
However, the gap Cameron had forged at the start dramatically disappeared as Moffat moved through to take the lead at The Chase and Cox at Murray's Corner, which then put him under pressure from Jason Bargwanna.
On lap 4 the safety car was called as Nathan Morcom hit the wall exiting The Dipper in his HMO Customer Racing Hyundai i30 N TCR.
Off the restart the top four sprinted away as Caruso held a train of entries led by Ben Bargwanna across the top.
Moffat continued to hold a comfortable 1.3s buffer ahead of Cox heading into the back half of the race, as Cameron held Jason Bargwanna, Caruso and Ben Bargwanna at bay.
The Team Valvoline GRM Alfa Romeo of Caruso slid down the inside of Jason Bargwanna at The Chase to pursue Cameron, leaving the father and son to dispute fifth place.
Cox was closing in on the Moffat as 0.5s split the pair with six laps remaining, as the Swyftx GRM Alfa Romeo ran wide at McPhillamy Park and locked up at The Chase.
There was a change at the front as on lap 11, Moffat's Renault encountered a problem allowing Cox to take the lead, although Cameron remained 0.5s behind.
In what was a thrilling last lap duel, Cox and Cameron duked it out, but it was the former who held on to take his second victory of the weekend by just 0.5832s.
Caruso finished third ahead of Jason Bargwanna.