CAMERON BEATS OPEN WHEEL ACES TO TAKE WET-WEATHER WIN
November 21, 2021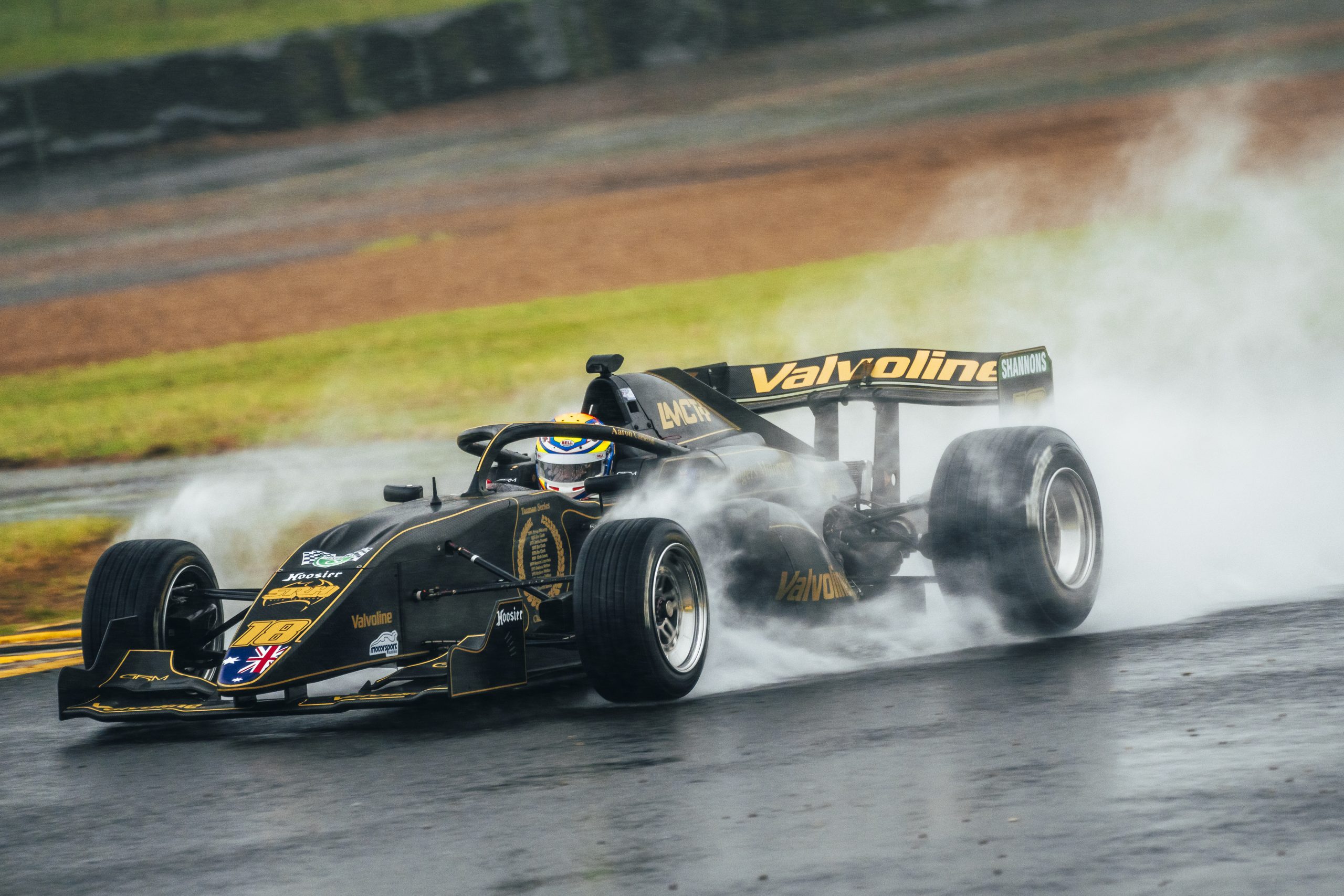 SPORTING a tribute livery to the great Mario Andretti, Supercheap Auto TCR Australia driver Aaron Cameron has channelled his inner open-wheel great to take a stunning victory in the opening round of the Shannons S5000 Tasman Series.
In the wettest ever conditions for an S5000 race, Cameron blazed his way from fourth on the grid to lead the sodden race by the end of the first racing lap, pulling away from the field to record a comprehensive win for the Valvoline Garry Rogers Motorsport squad.
Starting from pole, Macrow led the field to the green flag but was quickly overhauled by Cameron on the opening lap.
The Victorian driver would never be headed, surviving the ever-worsening conditions as the race evolved to maintain a solid margin over vastly more experienced open-wheel rivals behind.
Following a lengthy battle with Roberto Merhi for the final step on the podium, polesitter Macrow would survive a late spin to just miss the podium and finish fourth.
Merhi was on course for second before he too executed a 360-degree loop, which allowed his Team BRM Alabar Form 700-backed teammate Joey Mawson to scythe past and grab an unlikely second position result.
Starting last following a horror pair of sprints on Saturday, Mawson made up five spots on the first racing lap in todays race and had climbed to third by the seventh lap.
He jumped to second a lap later to cross the line behind winner Cameron in that position after the 10 racing laps that were completed.
With Merhi third and Macrow fourth, Luis Leeds finished fifth, James Golding sixth – after surviving another wild off at turn one – and Blake Purdie seventh in his Nippy's 88 Racing machine.
Yoshiaki Katayama finished eighth on his wet-weather S5000 debut while Jordan Boys and Ben Bargwanna both survived on-track adventures to complete the top-10.
He was unfortunately removed from the results of the race, which compromised his starting position in the feature as well.
After running as high as second early in the race, Nathan Herne failed to finish the race following a late-race off.
The Shannons S5000 Tasman Series moves to Mount Panorama next week with four races to decide the champion set for the iconic 6.213km circuit in the Central West of New South Wales.
STANDINGS – Shannons S5000 Tasman Series
After 3 of 7 races
Aaron Cameron 105
Roberto Merhi 86
Tim Macrow 86
James Golding 65
Joey Mawson 57
Luis Leeds 48
Cooper Webster 48
Jordan Boys 39
Ben Bargwanna 35
Blake Purdie 34
Yoshiaki Katayama 34
Nathan Herne 19