Cameron, classic livery tribute set for Tasman Series debut
November 12, 2021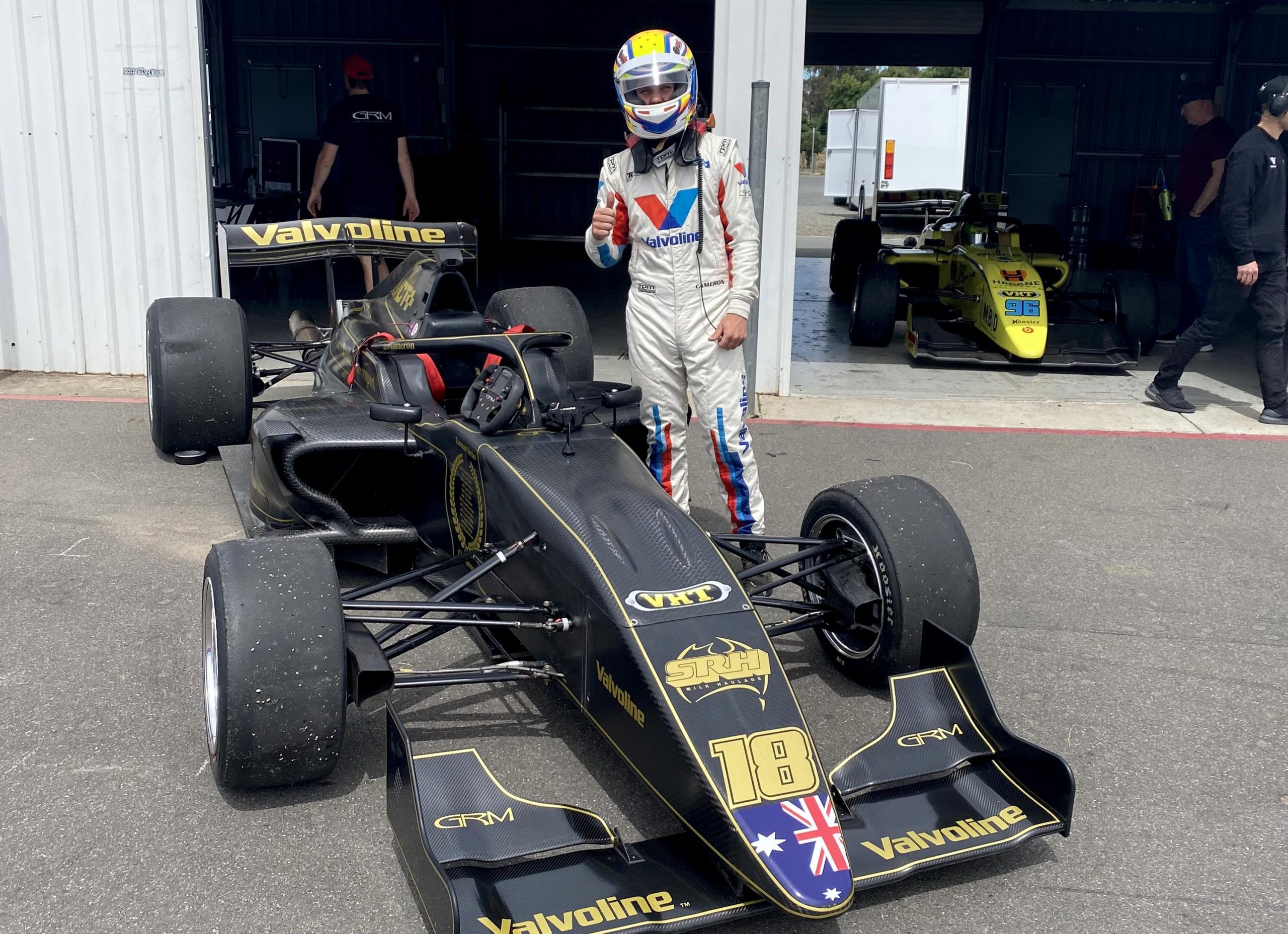 HE'S a star of the Supercheap Auto TCR Series, but Aaron Cameron will hope to channel his touring car success into open wheelers in the upcoming S5000 Tasman Series.
The 21-year-old Victorian will drive a Garry Rogers Motorsport entry, backed by Valvoline, at Sydney Motorsport Park in what is a return to open-wheel competition – his junior career including a stint in Formula Fords.
Cameron's Rogers AF01/V8 chassis will feature a stunning black and gold tribute livery modelled on the iconic JPS Team Lotus 79 Formula One entries, raced in the 1978 F1 season by Mario Andretti and Ronnie Peterson.
Team Lotus featured backing from long-time GRM sponsor Valvoline at the time, hence the link with the S5000 program.
After his first S5000 at Winton two weeks ago, Cameron completed a full test day with his GRM teammates yesterday (Thursday) at Winton, quickly getting up to speed in the 560hp 'wings and slicks' racer.
Cameron's is the fourth car to be entered in the Tasman Series by GRM, who have already locked in existing S5000 stars James Golding and Nathan Herne, plus Cameron's TCR teammate Ben Bargwanna.
The Tasman Series gets underway at Sydney Motorsport Park next week with a pre-event test under lights on Thursday, prior to practice on Friday.
Action will be covered by the Seven Network, Fox Sports and Kayo Sports.
AARON CAMERON
"It's been an interesting mindset change but so far it's been great. I raced Formula Ford for a year and it's great fun to get back into an open-wheeler, though this has a lot more horsepower and more aero," Aaron Cameron said.
"It was a bit of a surprise when Barry (Rogers) mentioned it. We were at the shakedown day for the TCR cars and he said 'make sure you hang around until the end' and they let me have some laps in the car.
"One thing led to another and now I'm racing one!
"I've had to get rid of the peaked section on my helmet, grab a tinted visor.. I've had to clean my helmet because it's got bugs all over it!
"They're insanely powerful, which is fun, compared to a TCR car there's a lot of power to play with. They don't have huge aero, but there's still enough aero to use it effectively and I'm still figuring that out.
"The lack of power steering compared to the TCR car has been noticeable – my arms are feeling it!
"I've always got expectations on myself and I'd like to walk away with a top five – that would be a great result given the limited prep and laps. We'll see how it plays out.
"The guys I'll be racing are super competitive – there are no slouches in the S5000 field."
BARRY ROGERS – Garry Rogers Motorsport
"Aaron is a great talent and has been one of the group of young drivers part of the GRM program that we really get motivated by. He's shown his talent in the TCR cars," Rogers said.
"He recently had a run with WAU (Walkinshaw Andretti United) and did a great job, so we thought 'why not give him a run in the S5000′.
"Valvoline have been very supportive and have jumped on board to support Aaron at Sydney Motorsport Park. We were looking for ways to tie in their support with their long history in motorsport, and in particular open wheel racing, and that's how we came up with this livery.
"It's modelled on the 1978 JPS Lotus livery, which featured Valvoline as a major sponsor. It's an iconic livery and an iconic car. It's pretty nostalgic to have it on the car.
"We also have a list of the Tasman Series champions on the car, which we think is important as it shows the importance of the series.
"To get that award back on the table, over seven races the driver that wins it is going to be in elite company – it's something to aspire to. Not many can say they have that name on that trophy."