GRM CONFIRMS GOLDING, HERNE FOR S5000 TASMAN SERIES
September 30, 2021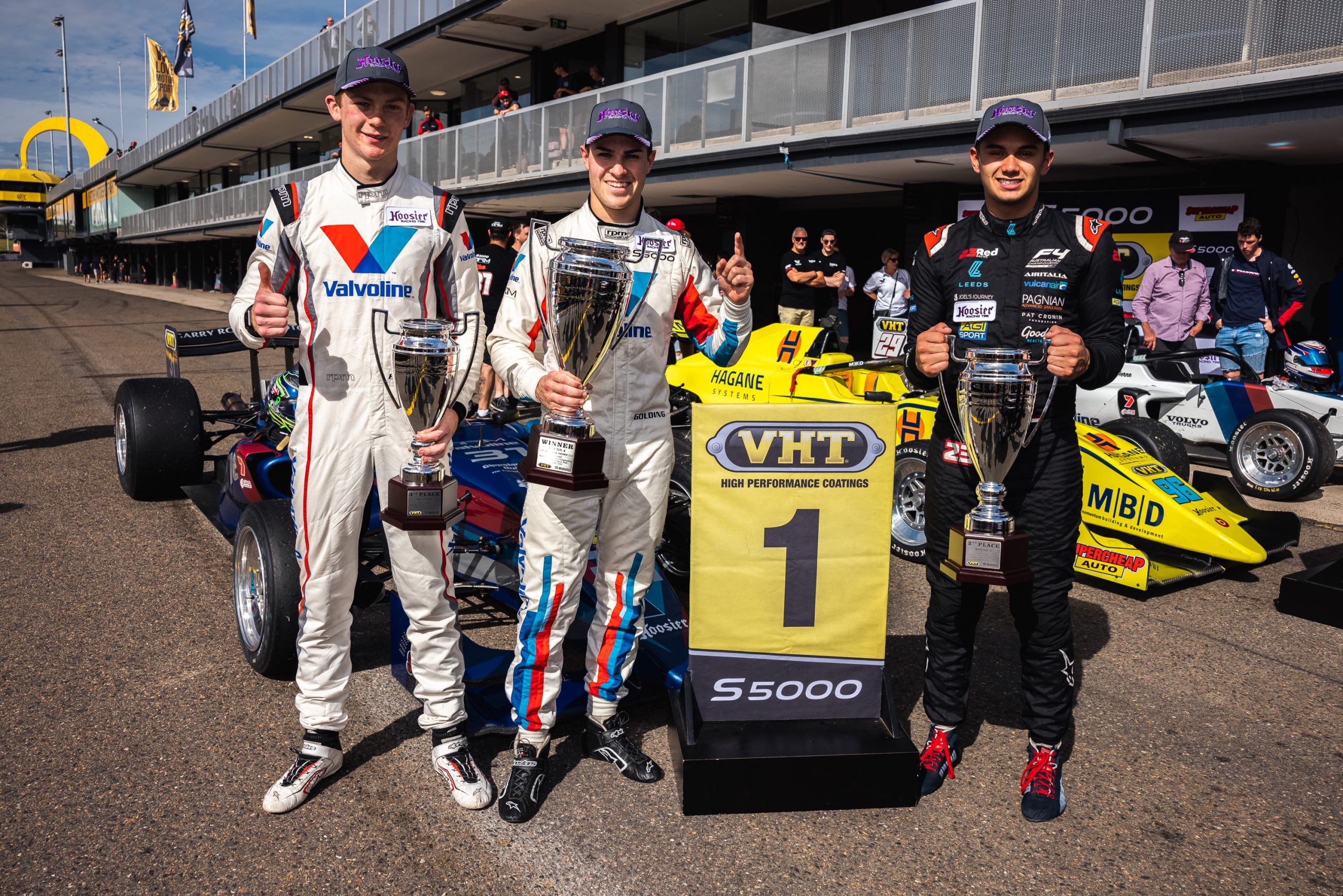 Garry Rogers Motorsport has confirmed James Golding and Nathan Herne will return to the squad for the upcoming S5000 Tasman Series.
The pair will drive a pair of Valvoline-backed Rogers AF01/V8 Chassis in the two-event, seven race series that will commence at Sydney Motorsport Park in late November before concluding at Mount Panorama, Bathurst, in December.
GRM has also confirmed that discussions are underway that could see fellow young talent Luis Leeds return in a third entry, should a deal be reached.
GRM were key contenders in this year's S5000 Australian Drivers' Championship and ended the inaugural season on a high thanks to a stunning 1-2-3 finish in the final race of the year at Sydney Motorsport Park.
Golding finished fourth in the championship with three race wins plus the overall victory in Sydney to his credit, capping off the season in style.
Herne finished fifth in the title race thanks to his six podium finishes, while Leeds was just two points further back in sixth overall.
"We're good to go and really looking forward to the Tasman Series with Jimmy and Nathan," Barry Rogers said.
"They had up-and-down seasons in the Gold Star championship but the way we finished at Sydney Motorsport Park was fantastic; to lock out the podium in the final race was a great reward for all the team who have worked so hard on this project.
"Jimmy is always competitive and will definitely be a championship contender. Nathan's progress throughout the season earlier this year was great to watch and he's as fast as anyone now so will be a threat.
"We are working with Luis and his people to try and get a deal over the line to see him return as well. As most people know, at GRM we love supporting the young drivers and Luis is a great talent, so hopefully we can put something together that will see him return.
"The team is really looking forward to challenging for the Tasman Series title; if one of our drivers gets the chance to put their name on the same trophy as some of those legends, that would be pretty special."
Golding said he was keen to build on the strong finish to the Gold Star season this summer.
"It's awesome to have some races coming up and to jump back into the S5000," Golding said.
"It's a fun car to drive and to drive it at two awesome tracks will be unreal. It's great to be back with Valvoline and GRM – I've been hanging out to get back in the seat.
"The 2021 season was an up and down season for us. It was a short championship, and a lot of things didn't go our way with some DNFs and some incidents, but we finished it strongly at Sydney Motorsport Park and that gives us a lot of confidence.
"We chose to try a few things with the car at the final round, knowing we weren't attacking the title, to chase some speed out of the car heading into the 2022 season and it paid off.
"That event was really strong for us and we're pretty confident heading back there this November."
Impressive open-wheel rookie, teenager Nathan Herne, has Bathurst in his sights as a 'history making' exercise.
"I'm so keen! It's been so long since I've been in a car," he said.
"I didn't finish the championship on a high in Sydney: I over-pressured myself and under-drove the car so I've had time to go back and reflect and do some study with the guys at GRM to improve.
"It's going to be good going straight back to Sydney. It's a track I know really well now and will be great to put into action everything I have learned straight away.
"The Tasman Series is an exciting thing and the fact there's $30,000 up for grabs is a good incentive to work even harder.
"Racing at Bathurst is going to be incredible and it will be cool to be part of history in the making when S5000 races there. It's going to be crazy."
The S5000 Tasman Series grid continues to grow in depth ahead of the return to racing this November.
Champions Team BRM are expected to field at least two cars in a bid to claim two titles in the same year, while 88 Racing will expand to a multi-car team for the first time.
New squad, Sydney-based Volante Rosso Racing, has also locked in their participation while double Gold Star champion Tim Macrow is working hard on expanding his single-car team. Other car and driver combinations are also in the works ahead of the series this summer.
A $50,000 prize fund is up for grabs in the return of the Tasman Series, with $30,000 going to the winner.