GRM celebrates 'The Original Engine Oil' with special celebration in Sydney
April 26, 2021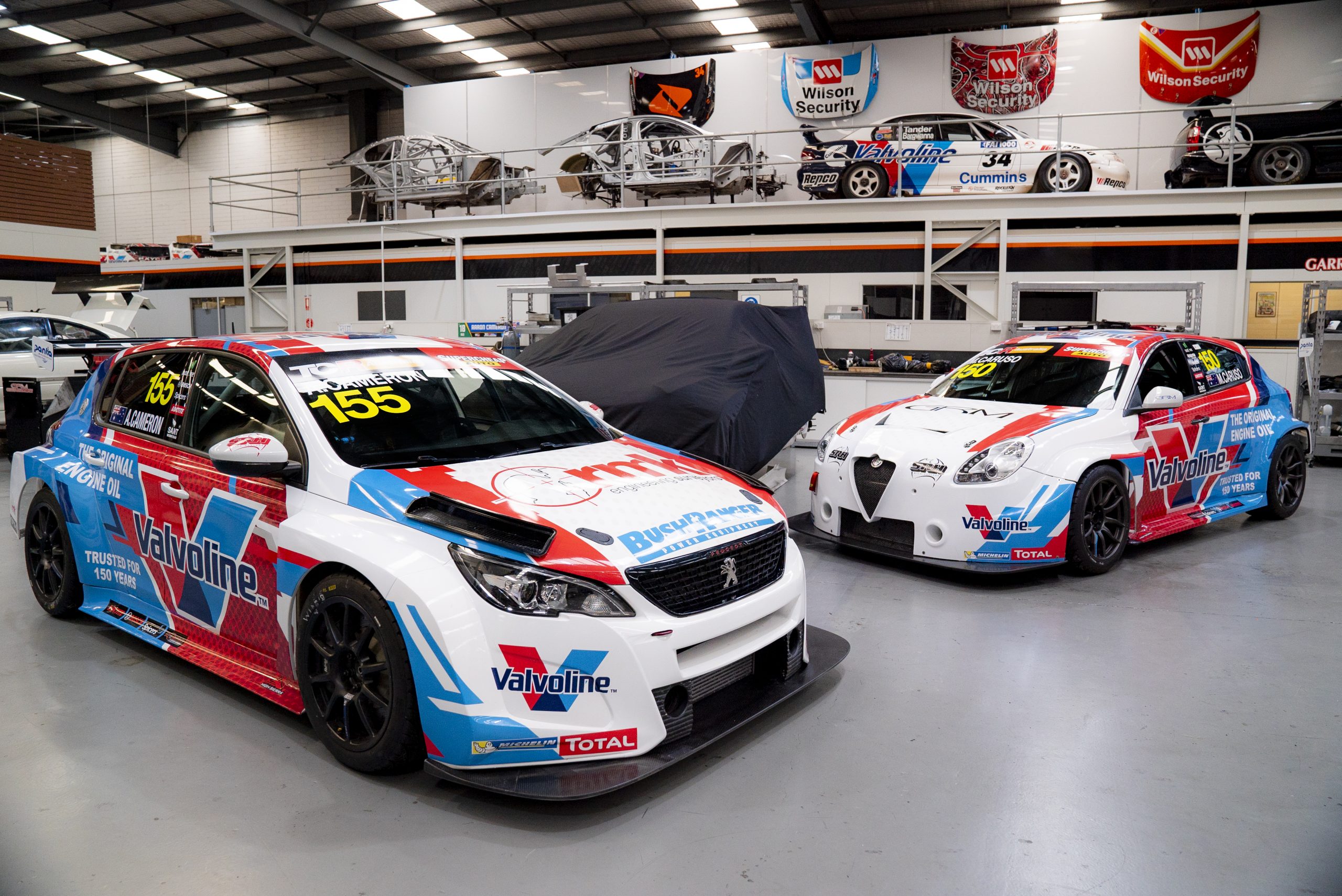 Garry Rogers Motorsport will honour its long-term backer Valvoline with a pair of unique liveries on the TCR cars of Michael Caruso and Aaron Cameron at Sydney Motorsport Park this weekend.
Acknowledged as the petroleum industry's first trademarked engine oil brand in the USA, GRM will help promote Valvoline's 'The Original Engine Oil' brand campaign, coinciding with the company's 155th year in existence.
To honour the milestone, Cameron's Peugeot 308 TCR will run the #155, while Caruso's Alfa Romeo will use the #150.
Dr. John Ellis founded Valvoline in 1866 when he discovered the lubricating properties of distilled crude oil, formulating the world's first petroleum-based lubricant. Valvoline oil was officially trademarked in 1873.
In Australia, Valvoline has been in operation for over 120 years, servicing the automotive aftermarket, and also acknowledged as a long-time supporter of Australian motorsport, especially GRM.
The brand has supported GRM and its racing efforts since 1988 while Garry Rogers himself was still racing.
Since then, GRM has gone on to be one of the most formidable and versatile race teams in Australia, including winning the Bathurst 1000, the Bathurst 24 Hour, multiple Supercars race wins and now, playing a leading role in the emergence of the Supercheap Auto TCR Australia Series, the VHT S5000 Australian Drivers' Championship and the National Trans Am Series.
This weekend marks the fourth round of TCR Australia, with Cameron currently second in the title behind runaway series leader Chaz Mostert.
In the S5000 class, the Gold Star is on the line in the final round of the four round championship.
For those who can not make the Sydney circuit, you can watch on 7mate and 7plus in Australia, Sky Sport in New Zealand or motorsport.tv around the world.
QUOTES
Barry Rogers
Garry Rogers Motorsport
"This is a very special round for GRM and for Valvoline," said Barry Rogers.
"Valvoline has been with dad (Garry) since 1988. That was the first time that 'The Big V' appeared on the bonnet of the VL Commodore with John Andretti at the Bathurst 1000.
"A lot of years have gone by since then, but there's been one constant, and that's the fantastic support of Valvoline.
"People don't often know this, but Valvoline was the first in the world to produce an engine oil, and to carry the 'Original Engine Oil' branding at Sydney Motorsport Park on Aaron and Michael's car is really special.
"We're looking forward to seeing plenty of people come down to Sydney, have a great weekend and watch these Valvoline TCR cars roar around."