Nathan Herne to race S5000 and Trans Am in 2021
December 3, 2020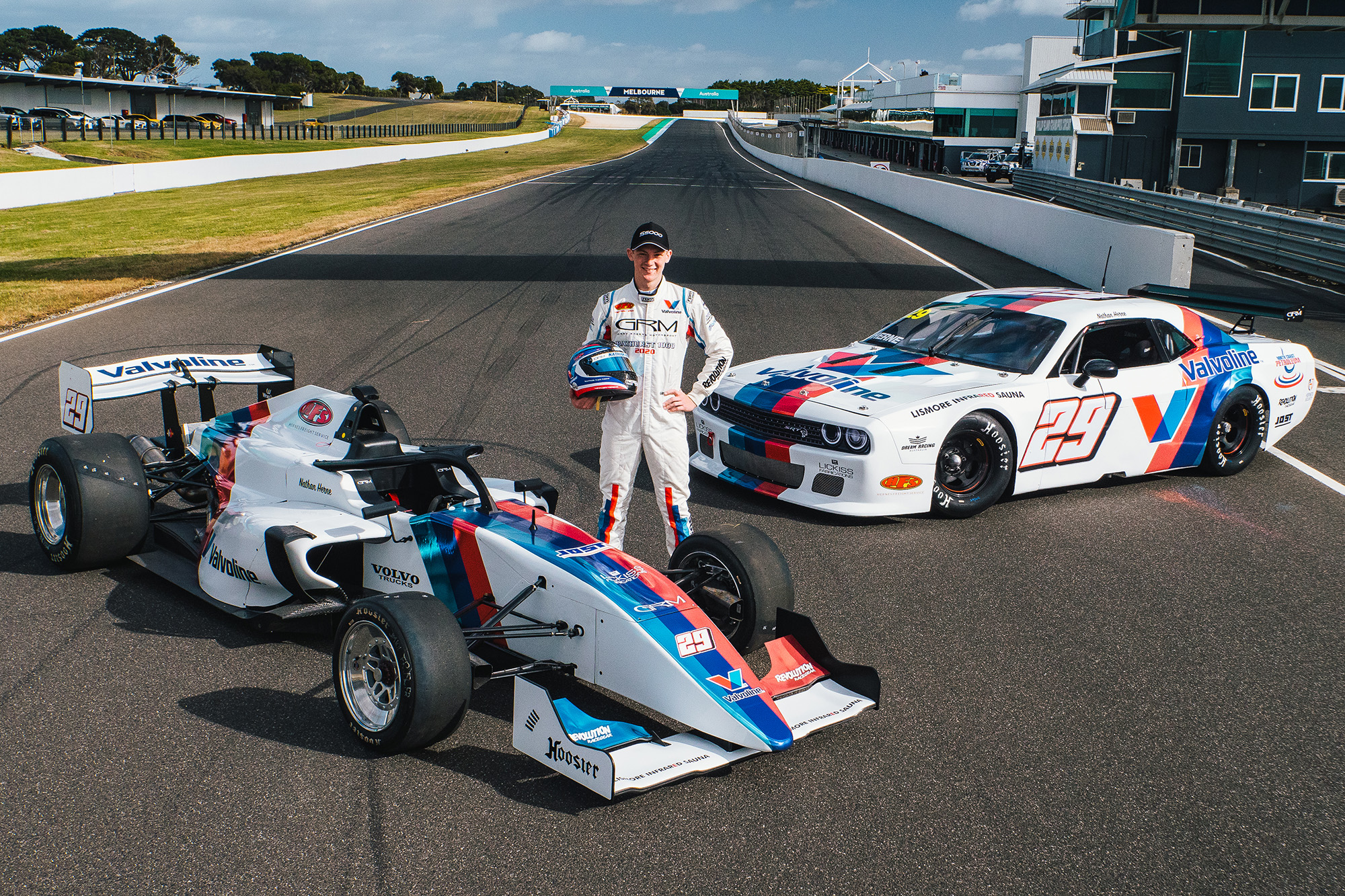 Young gun Nathan Herne will compete in both the S5000 Australian Drivers' Championship and the National Trans Am Series, with the support of Valvoline, in 2021.
The 18-year-old New South Welshman has signed a multi-year deal with Garry Rogers Motorsport that will see him compete in matching Valvoline colours in the twin national titles.
Herne's S5000 ride expands GRM's open wheel squad to three alongside James Golding and Luis Leeds, while his Trans Am entry will be run by Dream Racing Australia.
Herne tested an S5000 earlier this year for GRM, but has never raced one of the single-seat race cars that have been designed and built in Australia.
However, Herne is no stranger to open-wheeler racing. He tasted success as a race and round winner in the Australia Formula Ford Series, and was a dual Victorian and New South Wales state champion in 2018
He will conduct a test day at Phillip Island today as part of his first official day as a GRM and Valvoline driver.
The only new part about his drive in Trans Am, though, will be the addition of the famous Valvoline colour scheme. Herne has contested the past two seasons in the TA2 Muscle Car Series, and finished second in the opening round of the National Trans Am Series on the Adelaide streets earlier this year.
The first round of both the S5000 and Trans Am titles will be held at Symmons Plains Raceway – the first leg of the inaugural Race Tasmania festival.
CLICK HERE for ticketing details for Symmons Plains (January 24-26) and Baskerville (January 29-31).
The S5000s and Trans Ams will be joined by the popular TCR Australia Series and Touring Car Masters class at Symmons Plains before Trans Ams take the spotlight at Baskerville near Hobart where they will fight out for $30,000 in prizes in the Trans Am Ten Thousand.
QUOTES
Nathan Herne
GRM driver, S5000 and Trans Am
"To have the opportunity to represent Valvoline and Garry Rogers Motorsport in the 2021 S5000 Australian Drivers' Championship and the National Trans Am Series is a once in a lifetime opportunity and I'm absolutely stoked to get started," said Nathan Herne.
"GRM has had some of the biggest names in Australian motorsport come through their team like Garth Tander, Jamie Whincup and even Scott McLaughlin who's now racing in IndyCar, so to be the next driver selected by them at such a young age is something I'm very proud of and something I will grab with both hands.
"I'd never really considered open wheelers after Formula Ford, I was always looking at tin tops as I liked racing door-to-door, but after I drove the S5000 for the first time it was a massive eye-opener when I realised 'ok these cars are made to race and they're made to be a spectacle.
"They're not made to be a car where anyone can come and drive, they're a real race car that rewards bravery and someone who can think ahead of the car and maximise the setup underneath them.
"Swapping between the hard and aggressive style of the Trans-Am to the smooth and precise nature of the S5000 will be tough, but if I didn't think I was up to the challenge I wouldn't have signed up for it, it's a new and exciting challenge for me."
"Like the Trans Am, the S5000 is pretty well a fixed-setup car. There are some minor adjustments you can make but they are similar cars for each and every driver on the grid, so the cream will always rise to the top and I can't wait to see where I rank against some of the best drivers in Australia.
"I'm coming into my third year of racing the Trans-Am car now, so this test today at Phillip Island will mainly focus on the S5000 to get our head around the aero and the downforce of it.
"This announcement is a massive instalment of confidence for me. Earlier in the year I wasn't too sure where my racing career was going to go especially after the whole Bathurst debacle, I was still working hard at it, but for Garry and Barry Rogers to pick me up for their S5000 and Trans-Am program in 2021 has put the fire back in my belly, I'm more dedicated than ever to make the most of this opportunity.
"I will have James Golding and Luis Leeds as my teammates next year who are two high-class open wheel drivers, I've got a very steep learning curve ahead so I will be trying my best to be a sponge and absorb everything in from having some incredibly talented people around me."
"It's awesome to be wearing the iconic Valvoline colours in 2021, they have a rich history in global motorsport and when you walk through the paddock and see their colours on the S5000 and Trans-Am they are instantly recognisable.
"To be chosen to represent an amazing brand in Valvoline is a massive feat on its own and I feel very privileged to have their confidence instilled in me to represent their brand in a positive manner.
"I can't wait to get the Valvoline S5000 and Trans-Am on track at the Race Tasmania festival in January and put on a great show for the fans."
Peter Besgrove
Managing Director, Valvoline
"Valvoline is excited to officially welcome Nathan Herne to the GRM team for the upcoming season," said Besgrove.
"Nathan has presently displayed his race craft and the ability to adapt in a number of categories at a very young age, and after meeting with Nathan I can see that he is far more mature than his current age suggests.
"Over the years, Garry has managed to promote some very young drivers who have gone on to compete and succeed at all levels of motorsport and we sincerely wish Nathan all the best in his quest in both the Trans Am and S5000 events."
Barry Rogers
GRM
"It is great that we welcome Nathan full-time into the GRM fold for what both Garry and I are assuming will be many years to come," said Rogers.
"We have made no secret of our thoughts on his skills. We tried to get him into our Bathurst 1000 wildcard, and ever though that did not happen, we have not lost sight of the fast that he is a real talent. Garry and I have been very impressed with him, both as a driver and a young man, so we are pleased to see him join our team.
"It's fantastic that Valvoline has also recognised his talent and brought him into its fold as well. Like GRM, Valvoline is big supporters of young, rising talent, and Nathan is a great addition to its squad.
"Nathan has a lot of experience in the Trans Ams, so when he tested the S5000, he adapted very quickly. He comfortably slipped into the car and was on the pace. We're looking forward to seeing how he fairs in both of these great categories."