Ben Bargwanna secures full-time TCR Australia seat
August 6, 2020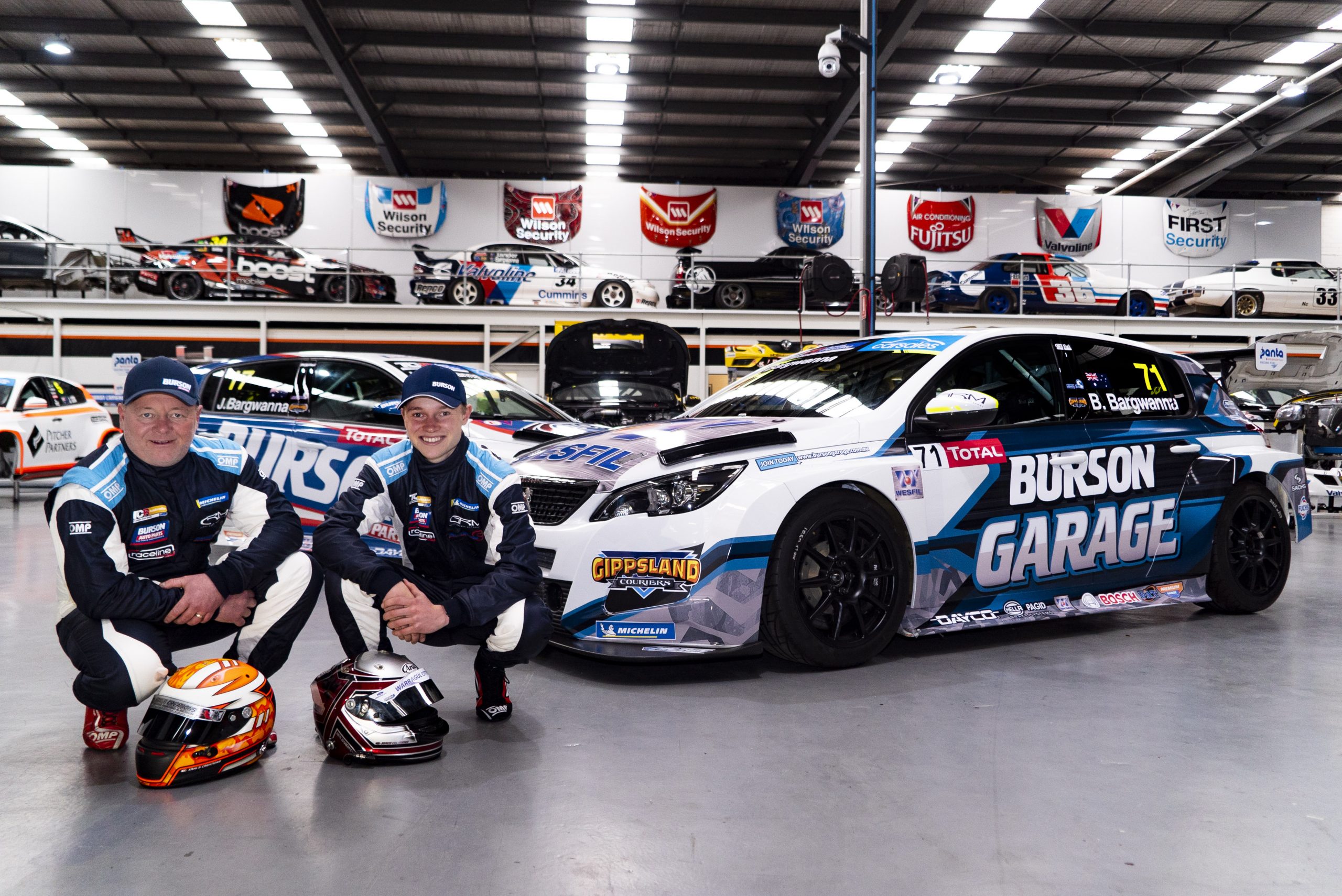 Australia's preferred trade supplier of automotive parts, tools and workshop equipment, Burson Auto Parts, will double-up the true blue company's presence in one of Australia's most exciting touring car championships this year.
Following the aborted start to the 2020 carsales TCR Australia Championship at the cancelled Australian Grand Prix season opener in Melbourne back in March, Burson Auto Parts has stayed on the virtual track thanks to the efforts of talented father and son racers Jason and Ben Bargwanna throughout the COVID-19 disruption of the official race event calendar.
Now, just like the double Burson Auto Parts simulator racing challenge, the Australian company is pleased to announce that two Burson Auto Parts Racing TCR Australia cars will take to the track across the newly revised 2020 carsales TCR Australia Championship season.
As announced in March, highly experienced former Supercar race winner Jason Bargwanna will compete in the Burson Auto Parts Racing Peugeot 308 TCR, while his son Ben will make his TCR Australia Championship debut in a uniquely liveried second Burson Auto Parts Racing Peugeot 308 TCR, with both cars prepared and raced by legendary Australian motorsport team, Garry Rogers Motorsport.
This doubles-up Burson Auto Parts' motorsport based marketing efforts together with supplier sponsors Dayco, Wesfil, Fuchs, Hella, Hella Pagid, Sachs, Bosch and Premier Auto Trade.
Both Burson Auto Parts Racing Peugeot 308 TCR drivers have taken part in detailed pre-season testing and are well prepared and very eager to finally get the racing underway in this Covid-19 disrupted season.
"We had set out at the start of the year with a clear and structured plan with defined goals for both Ben and I, then 2020 slapped us in the face and forced a total rethink. Initially Ben and I were going to team up for the Bathurst international in the two driver event but those plans have changed and ours had to as well.
"We have worked closely with Burson Auto Parts and together we have aligned our goals and I am very excited to expand to a two car program for the remainder of 2020.
"Ben now makes the step to TCR and I am so proud of him. From his first Kart race meeting at Gippsland Kart Club, as a 10 year old, when he spent every lap of his first race waving to mum and I as he drove past,  to the day the penny dropped and he realised what winning was all about, to watching him drive out of pit lane in the Burson Auto Parts Peugeot at the pre-season test, really was a lump in the throat moment. He has grown into a great young man – he clearly got that from his mother!" Jason stated.
"It is surreal to think that together we will head out and tackle the top quality TCR Australia field. I guess the saying about the first person you want to beat is your teammate now takes on a whole new and deeply personal meaning! He is the one driver I would be proud to finish in second place to," He added.
As you would expect, Ben Bargwanna is counting the hours and minutes before his debut TCR race in the Burson Auto Parts Racing Peugeot 308.
"It is just awesome to be a part of the Burson Auto Parts Racing Team. I am so hungry for this that it hurts and driving the car for the first time in testing was an amazing experience.
"It was a bitter pill to swallow when my Formula Ford Championship plans were disrupted by the pandemic, but I decided to stay focused, positive and to work hard on the things that I could control.
"I have really enjoyed driving for the team in the E-Racing Sim world, I am fit and ready and now can't wait for the real world racing to start," Ben said.
"I make no assumptions of the size of the challenge I am facing with this, but with the support of Garry Rogers Motorsport and Burson Auto Parts, I will work harder than any driver in the field to make the most out of this fantastic opportunity.
"The first goal is to make the top ten, then to make the top five and race for the podium. I am focused on doing whatever it takes to win, including beating the old man!" Ben added.
All jokes aside, it also means a great deal for Ben to be able to race with and against his father.
"Not only is this a great opportunity to be part of the TCR Australia field, but it is also an amazing opportunity to be racing with my Dad. He has been there for every step of my racing and for him to be a part of this next huge step means a lot. Everything I have learnt so far has been from him, so to continue that next step of my learning with him can only generate further improvement," Ben stated.
Burson Auto Parts General Manager, Marketing, Anthony Hughes is excited about doubling up on the track in this delayed start to the 2020 carsales TCR Australia Championship.
"We are delighted that the opportunity became available to place a second Burson Auto Parts Racing TCR car on the grid in this delayed start to the 2020 season. We are also looking forward to the father and son battles that will progress across the six races that will form the new look championship," Anthony Hughes stated.
"Along with the impossible to miss Burson Auto Parts livery on Jason's car, logos of more company owned brands will appear on Ben's car throughout the season, reminding our valued customers and new customers of these quality Australian automotive aftermarket brands," Mr Hughes added.
The 2020 carsales TCR Australia Championship is scheduled to return to the track from October and extend through to the end of January 2021. All races will be televised live and free on the Seven Network across Australia.