BARGWANNA AND O'KEEFFE SHARE THE SPOILS AT ALBERT PARK
June 26, 2020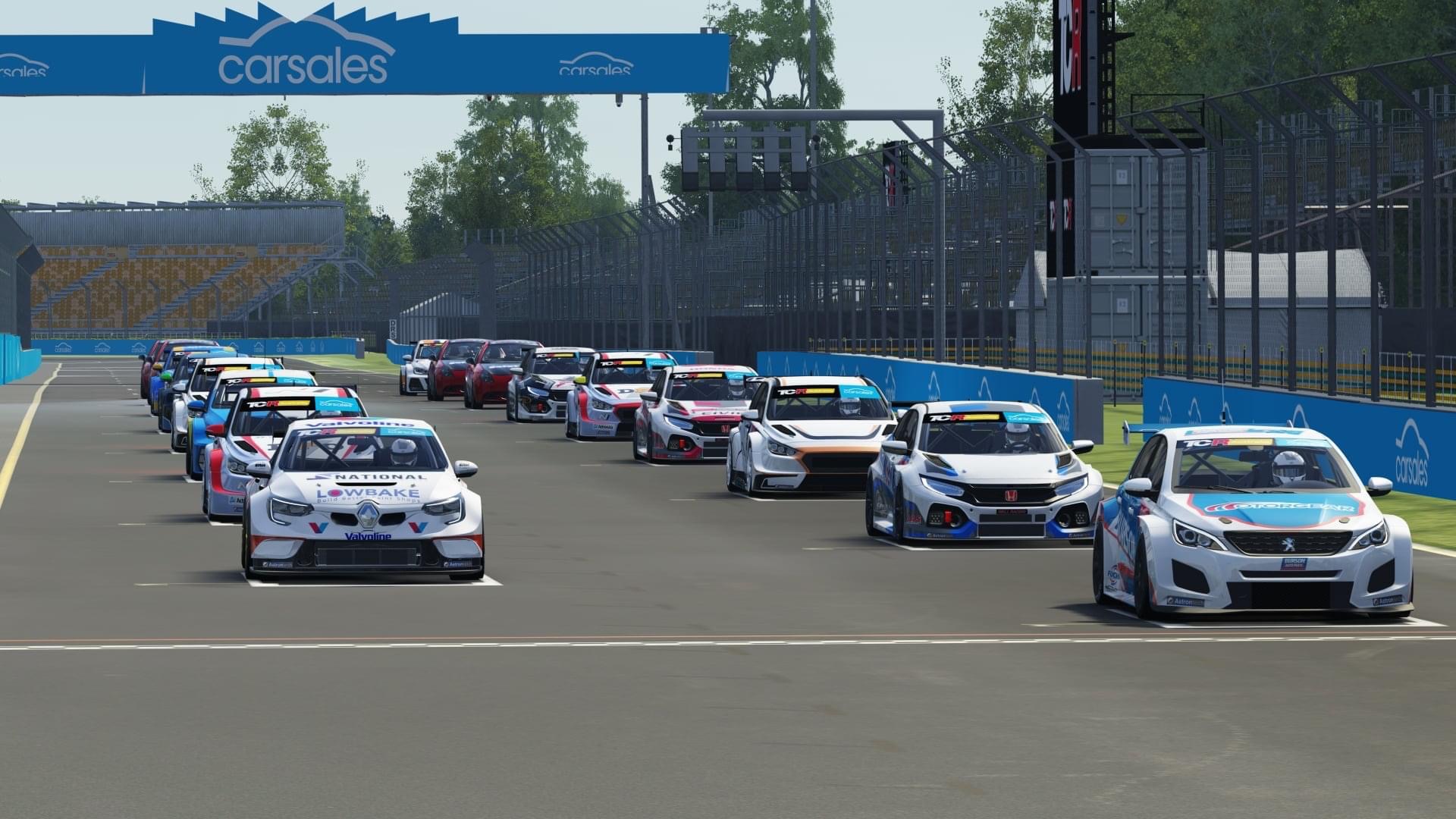 Ben Bargwanna and Dylan O'Keeffe have taken victories in Races 1 and 2 of the opening round of the carsales TCR Australia SimRacing Series at Albert Park.
The combined results from the two races – the second of which saw an inverted grid formation – sees Dylan O'Keeffe lead the series after the opening event.
Ben Bargwanna, a late inclusion after his father Jason was originally slated to drive the car, claimed pole position in the Burson Auto Parts Peugeot and went on to take a lights-to-flag victory in Race 1.
While Bargwanna led the entire race, it wasn't as easy as it reads, as he endured constant pressure from a heated battle pack including John Martin (Honda), Jaden Ransley (Hyundai) and Dylan O'Keeffe (Renault).
The four drivers would finish nose to tail in an pressure-driven and hard-fought race.
Bargwanna said that he was pleased to win a closely-fought race.
"It was crazy. I was trying to stay out of it, trying to stay clean," he said.
"The racing has been good, clean, and people are taking more time with their passing moves and the way they position the cars on track. It was great to take the win."
While Race 1 was a flat out grind, the reversed Race 2 grid saw the wick turned up with plenty of feeling in the field.
New Zealander Peter Vodanovich led all bar the final two laps of the inverted Race 2, taking off from the start and looking like he had an unassailable lead while the other cars bumped their way through the race.
On the penultimate lap, Vodanovich made a slight mistake at the first turn, allowing O'Keeffe to make an easy pass and claim the win.
"That was pretty enjoyable," said O'Keeffe. 
"To catch Peter, it was five or six qualifying laps on the limit. After the first flyer, I was taking six tenths a lap so I knew I was going to get close, but I needed to keep up the pace. 
"It's a fine line with the reverse grid races. I knew I had to be aggressive and push. It was good to get through some of the mess, pick them off and then charge down Peter.
"Race 1 wasn't the best from myself, but from a sim point of view, it was awesome racing and shows how competitive the field is. It was good fun and hopefully good for everyone to watch."
While O'Keeffe and Vodanovich took first and second.
Bargwanna finished fifth, despite getting caught up in a lap one incident with Chelsea Angelo, who had been turned around in the middle of the pack.
The next round of the carsales TCR Australia SimRacing Series will be held at Mount Panorama, Bathurst, next Thursday night.