BURSON AUTO PARTS RACING TCR TEAM HITS THE TRACK WITH GRM
March 4, 2020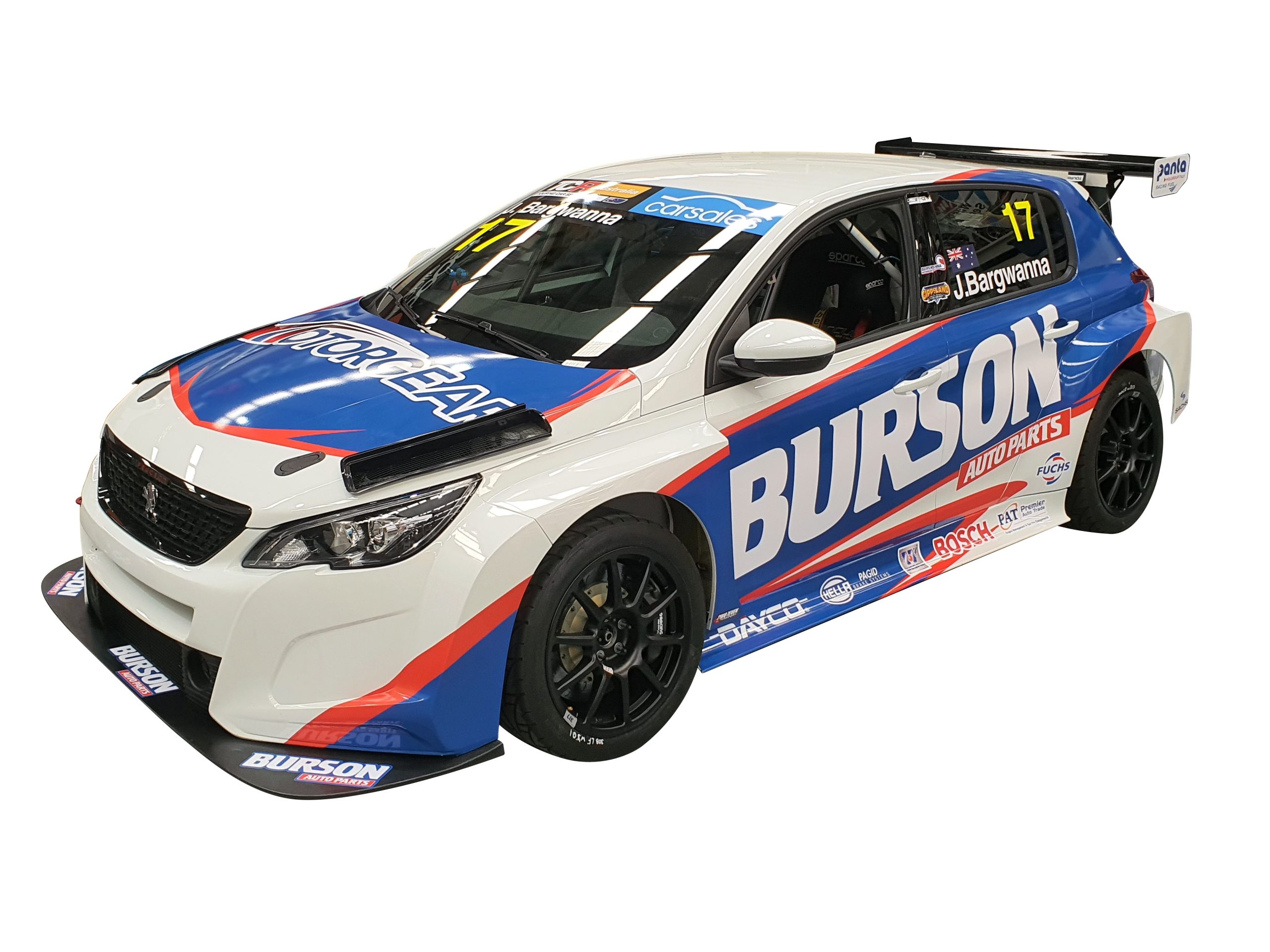 Australia's preferred trade supplier of parts, tools and equipment, Burson Auto Parts, returns to motor racing with a major presence in the country's most progressive motor racing series, the 2020 Carsales TCR Australia Touring Car Series.
Partnering with one of the biggest names in Australian motorsport, Garry Rogers Motorsport (GRM), Burson Auto Parts is the major sponsor of highly renowned Australian racing driver Jason Bargwanna and his GRM Customer Racing prepared Peugeot 308 TCR.
Sporting an eye-catching white, blue and red Burson Auto Parts Racing livery, the Peugeot 308 TCR arrives direct from competitive performances in European TCR racing to form a part of the most diverse vehicle manufacturer field in Australian motor racing.
TCR Australia includes all front-wheel drive C-Segment hatchbacks or sedans, powered by production based turbocharged petrol or diesel engines with a capacity of up to two litres. Vehicles represented in the series include such makes as Alfa-Romeo, Audi, Ford, Honda, Hyundai, Kia, Peugeot, Renault, Subaru and Volkswagen.
Australia's Burson Auto Parts is part of the country's largest automotive aftermarket specialised company, Bapcor Limited. There are more than 185 Burson Auto Parts stores nationwide with the company's growth continuing at a solid pace.
According to Anthony Hughes, Burson Auto Parts General Manager, Marketing, "This an opportune time to maximise the Burson Auto Parts – The Parts Professionals message to our loyal and growing trade customer base across the country. TCR is a new and exciting national motor racing category and the cars strongly reflect the majority that are being driven and serviced by our customers – the mechanics in your local workshops."
"We have a very highly experienced driver in Jason Bargwanna and an even more experienced team in GRM for the new TCR season. We are joined by our supplier partners Dayco, Wesfil, Fuchs, Hella, Hella Pagid, Sachs, Bosch and Premier Auto Trade with this exciting marketing initiative and we forward to a fantastic season ahead," He added.
Burson Auto Parts Racing TCR driver Jason Bargwanna is also keen to get back behind the wheel this season.
"Returning to top level motorsport with such an iconic and blue-chip partner is unreal," Bargwanna stated.
"I have been fortunate over the years to work with many teams and sponsors. There is no doubt that Burson Auto Parts is the perfect partner for my 2020 TCR championship assault.
"The team at Burson Auto Parts understands what makes mechanics and their workshops tic, they connect with their customer base strongly and partnering with a leading European brand like Peugeot is symbolic of what the automotive aftermarket represents today.
"The Burson Auto Parts Racing Peugeot is a rocket-ship and the car looks fantastic. And as the season progresses we will have some exciting livery design changes to highlight some of the world renowned and iconic automotive brands available through your local Burson Auto Parts store.
"I look forward to meeting the Burson Auto Parts team at stores across the country and I am very excited about racing with this outstanding Australian company – now lets get on the track!" Bargwanna said.
The opening event of the 2020 TCR Australia season takes place the Rolex Australian Grand Prix in Melbourne from March 12 to 15 and continues across seven national championship rounds from March to September. A two driver Bathurst endurance race, the inaugural TCR Bathurst International will conclude the season in November.
Burson Auto Parts will be conducting trade promotions linked to their new TCR motor racing marketing platform during 2020 as the championship makes its way across Victoria, New South Wales, South Australia and Queensland.