Michael Caruso reveals multi-year Valvoline GRM Alfa Romeo TCR partnership
February 10, 2020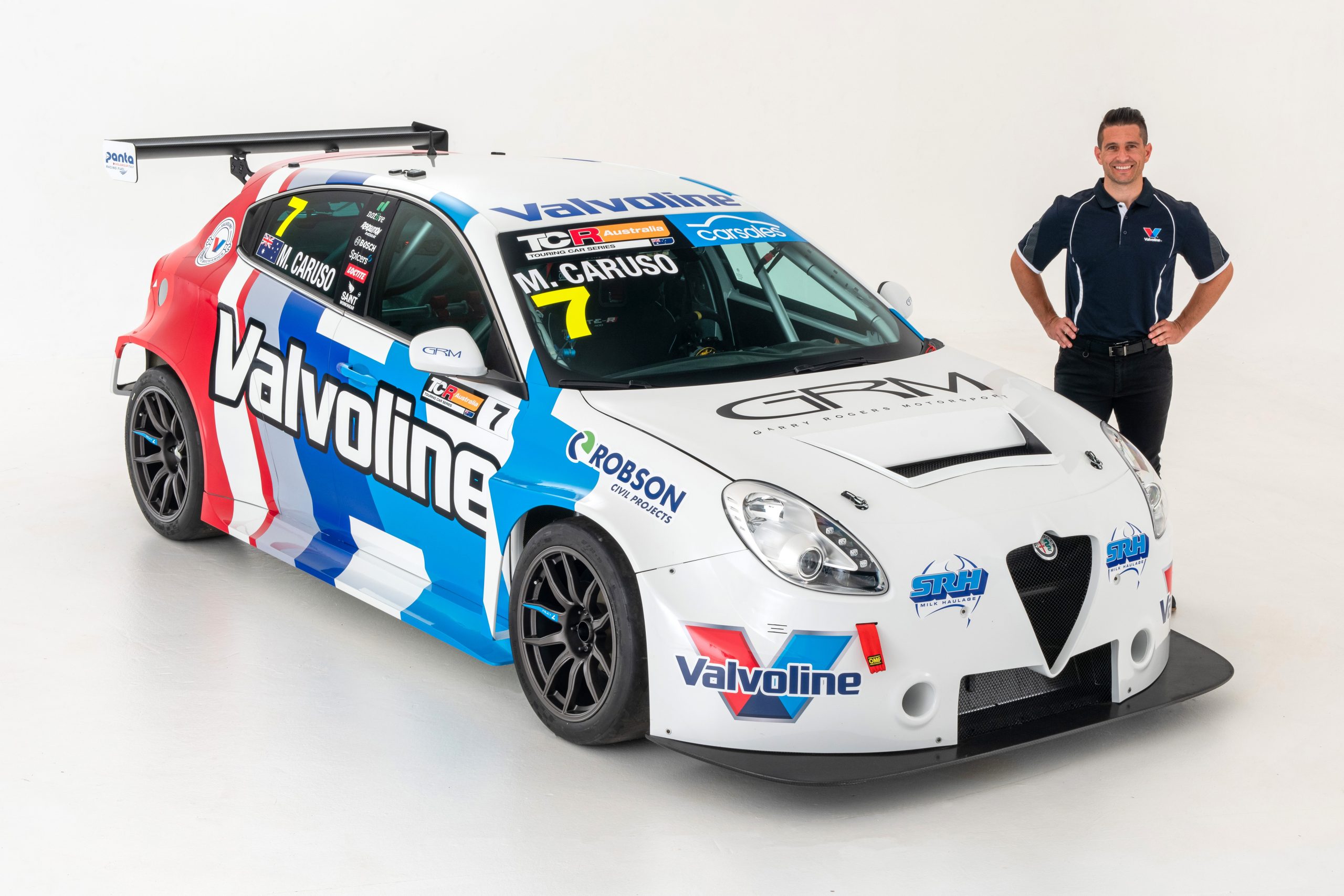 Michael Caruso will reunite with Valvoline and Garry Rogers Motorsport in 2020, competing in the carsales TCR Australia Series on a two-year deal.
The 36-year-old will drive a brand-new Alfa Romeo Giulietta Veloce for the famous Melbourne team, adorning major support from Valvoline Australia.
Caruso will kick start his TCR campaign at Albert Park, driving the Valvoline GRM Alfa Romeo in the TCR Asia Pacific Cup, followed by the full seven round season and concluding with the inaugural TCR Bathurst 500, headlining the all-new Bathurst International on November 13-15.
It is a return of sorts for Caruso to GRM. The Sydney-born driver's first full-time drive in the Supercars Championship came courtesy of GRM in 2008. It was a relationship that would last five successful years that included Caruso's maiden Supercars race win (Darwin 2009), plus a podium finish at the Bathurst 1000 in the same year.
Caruso went on to complete 11 unbroken years as a full-time Supercars driver, collecting two race wins and nine podium finishes.
He also made a two-round comeback for GRM last year, racing at Queensland Raceway and Townsville in the Supercars Championship before stepping into his co-driver role at Tickford Racing alongside Cameron Waters.
Besides his skills behind the wheel, Caruso is emerging as a media talent in his own right, occupying roles with the Seven Network during its time with Supercars, Network Ten as a panellist on its RPM program, and also hosting his own podcast Below the Bonnet with Supercars driver David Reynolds.
Caruso will get his first taste of the Alfa Romeo at Sandown in a private test today ahead of the official TCR Australia pre-season test at Winton Raceway on February 26.
QUOTES
Michael Caruso
Driver, Valvoline Racing GRM 
"I'm really excited to partner with Valvoline and the Garry Rogers Motorsport team for the next two years in the TCR Series," said Michael Caruso.
"I've had the opportunity to work with both organisations in the past, and I have so many great memories and still hold many life long friendships from those years. GRM as an organisation has a fantastic, hard working group of people which are like family to one another and that resonates with me.
"I raced as a Valvoline driver when I first started in the Supercars Championship back in 2008, and it's great to reconnect with this multi-national company that is so influential not only within Australia but all around the world. Valvoline is extremely passionate about its racing and we feel that the TCR Australia Series is a great way to showcase its brand.
"I watched the first season of TCR Australia and you can see the potential that it has. I knew I wanted to be a part of it, and it is even better that I get the chance to link up with Valvoline and GRM to do it. I know that as a team we have all of the right ingredients to make it successful.
"I believe we are definitely a chance to give the series a shake up. The Alfa Romeo has shown that it is a strong package – both in Australia and in other TCR competitions around the world.
"There is already so much excitement around the 500km race at Bathurst and it is something that I'm very much looking forward to competing in. Everyone loves endurance-style racing at Mount Panorama and that race will be the perfect way to end the season. I definitely want to be the inaugural winner and have my name on that trophy."
Peter Besgrove
Managing Director, Valvoline Australia 
"2020 marks a new chapter in the long relationship between Valvoline and Garry Rogers Motorsport," said Peter Besgrove.
"We have been partners in motor racing for over 30 years, but TCR is a brand-new experience. What is not new is the passion, commitment and hard work the GRM bring to the sport.
"This year, like every other year, GRM will rely on Valvoline for lubricants and technical support to ensure that their cars are up at the pointy end of the field.
"Returning this year will be Michael Caruso, who has a long history with GRM and can be relied upon to get the most of his race car. We are excited about the series and wish the team every success."