Jordan Cox locks in GRM TCR drive for 2020
January 23, 2020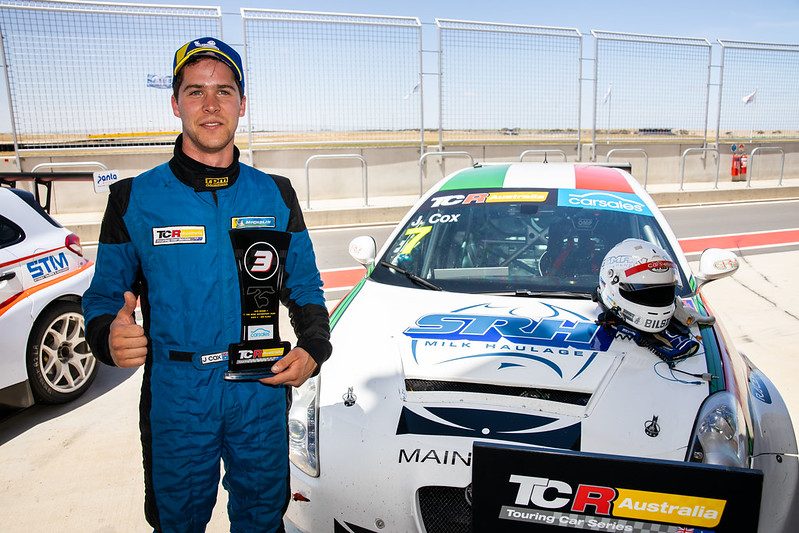 Jordan Cox will contest the entire 2020 carsales TCR Australia Series, continuing his deal with Garry Rogers Motorsport Customer Racing.
Cox will again drive the Alfa Romeo Giulietta Veloce that he drove in the final four rounds of the inaugural series in 2019.
The New South Welshman made a standout debut in the class last year, driving a Wall Racing Honda at The Bend Motorsport Park in July where he caught the attention of renowned talent spotters GRM.
Cox finished the year a credible 11th in the series points, despite missing the opening two rounds.
He claimed two podium finishes in the Alfa Romeo (Sandown and The Bend), and was leading the final race of the year at The Bend, only for a mechanical failure to curtail his bid for a maiden victory.
Cox's entry will be overseen by renowned racer and driving coach Greg Crick, who will continue with the GRM Customer Racing team in 2020, assisting with the squad's growing list of TCR drivers and cars.
GRM will field the factory-supported Renault Meganes, as well as a number of Alfa Romeos and Peugeot 308s.
The deal will see Cox compete in the official pre-season test, as well as all seven series rounds, however, he is currently not entered for the Asia Pacific Cup at Albert Park, supporting the Formula 1 Rolex Australian Grand Prix on March 12-15.
The look of Cox's Alfa Romeo will be revealed ahead of the 'free-to-the-public' pre-season test at Winton Raceway on February 26.
QUOTES

Jordan Cox
Driver, GRM Customer Racing
"We learnt a lot in my first season racing at the national level," said Jordan Cox.
"At lower club and state levels, it can be hard to know where you are at as a driver, but I certainly learnt about my strengths and weaknesses in TCR. We did some good things as the season went on and learnt a lot about myself.
"Qualifying was the biggest weakness, I found. Getting the most out of one lap proved difficult, but I've had a good look at that over the break and I'm confident that we can improve.
"It was the first time I've ever raced on slick tyres, so I was learning about getting the most out of them over a race distance, and making the most of them when they are brand new. That was something I struggled with initially.
"There's still a lot to learn at this level, but again, the biggest advantage is that I have five rounds of experience under my belt. It means that I can hit the ground running. The pressure will be on, no doubt, but you can't make it a bigger deal than it is. Championships are won one race at a time, so that's where the focus is.
"The main priority is the championship. I would love to do the Grand Prix, but it's just a budget constraint for that event. It would have been great thing to do.
"I can't thank the team enough for the opportunity. Also the people who have helped get me there. I can't wait to get into the season."
Garry Rogers
Garry Rogers Motorsport
"Jordan was a good addition to our team last year and we are pleased to have him in for a full series campaign in 2020," said Garry Rogers.
"He'll get to do some pre season testing, a full championship and we really believe that he has the talent to be up there amongst it.
"His mechanical aptitude is one of the best that I've seen in a driver. He is very hands on and always busy.
"The big thing in his favour is that he runs his own business, so he really has that 'effort in, reward out' mentality. There's no doubt he has the driving skill, but he also realises that being a great race driver doesn't guarantee you a chance to have a long-term future.
"Greg Crick is a very wise man and has been a big supporter of our efforts with Jordan. When I originally spoke to Greg about getting Jordan to our team, Greg helped me influence my decision.
"While Cricky is not an engineer, he is very qualified in getting the most out of a car and driver combination, and he is an invaluable part of our whole organisation."