Todd Kelly set for S5000 test laps at Queensland Raceway
July 31, 2019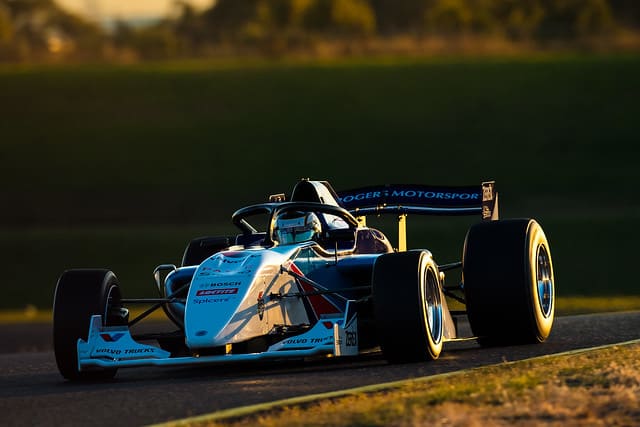 Todd Kelly will get his first taste of a high-powered open wheel race at Queensland Raceway this weekend when he tests the all-new S5000 race car at the Ipswich circuit.
The 2005 Bathurst 1000 champion will drive the Australian designed and built machine in a series of test laps on Thursday in a dedicated afternoon test session on the 3.1km layout.
Kelly will share the driving duties with Honda TCR Australia driver John Martin, who will also conduct laps at the 'Paperclip' in demonstration runs over the Shannons Nationals weekend.
While Kelly's recent career has seen him become an established touring car star, the Mildura-born resident is no stranger to high-powered open wheel race machinery.
After graduating from Formula Ford, Kelly competed in the 1998 Australian Drivers Championship, then competing for the prestigious Australian Gold Star crown. He finished second in the title fight behind now-IndyCar champion Scott Dixon.
John Martin will also find the open wheel surroundings familiar, having raced in high profile championships such as A1 Grand Prix, Formula Renault 3.5 and the Superleague Formula.  
The S5000's regular test driver Tim Macrow is currently overseas on other business duties and is unavailable for this week's track sessions.
The S5000 car is a unique Australian concept and, based on the French-designed Onroak-Ligier carbon-fibre chassis, is a masterclass of Australian motorsport engineering, with the entire car – outside of the required FIA-approved safety cell – being engineered and built in Australia. 
It has been designed with strength, safety and economy of both initial and ongoing costs as priorities to bring top-line single-seater motorsport back to Australia.
Thirteen of the S5000 cars are currently under construction at Garry Rogers Motorsport's race shop in Melbourne, along with the original chassis, and they are set to contest their historic maiden race event at Sandown International Raceway on September 20-22.
Interested parties can contact Garry Rogers Motorsport directly on the details below:
Phone >> 03 9793 6933
Email >> barry@grmotorsport.com.au
QUOTES
Barry Rogers
Garry Rogers Motorsport
"We are really looking forward to seeing how the S5000 car goes around Queensland Raceway," said Barry Rogers.
"As we all know, the circuit wraps inside itself, so no matter where you stand, you'll be able to hear the roar of the car from any vantage point.
"John Martin is a very accomplished driver – both in tin tops and open wheelers. So he was the most sensible choice for us while Tim Macrow is away on other business.
"And to have Todd Kelly drive the car is going to be really exciting. Todd hasn't driven an open wheel race car for a long time, but I have a feeling that he will adapt to it very quickly."
Todd Kelly
Team owner and former Supercars driver
"I've been interested in the S5000 class. Every time the car has been out on the track, I've watched it and it really gets the hairs to stand up on the back of your neck," said Todd Kelly.
"It's great that Garry and Barry are giving me the opportunity to get a first hand taste of the car. I haven't driven an open wheel for a while, and I'm not out to set a new lap record, but I'm certainly going to enjoy the experience.
"Australia has been starved of a decent, high performance open wheel category for a long time, and I can't wait to see what it's all about."
John Martin
Race car driver
"It should be great. Thursday will be beneficial for everyone. I was involved in the start of the S5000 program, so I've been across the details and I've kept a watchful eye on the category's progress," said John Martin.
"I love the style of S5000s. They are a proper race car and every time the car goes out on track, it makes you sit up and take notice. 
"I've been in conversation with Tim (Macrow) and he has given me some insight into the car's performance and what I should look out for. 
"If something came up to race in it, I would definitely look at it. They are pretty quick. It has plenty of power, and if you make a mistake, it will bite you, and that is the thing that will draw young guys to this class. This will be for the up-and-comers or experienced international drivers. It is going to be a serious class.
"Just to have something like this in Australia is just what we need. We've been missing it for a while now."