All 14 S5000 tubs now landed in Australia as excitement builds towards Sandown
July 6, 2019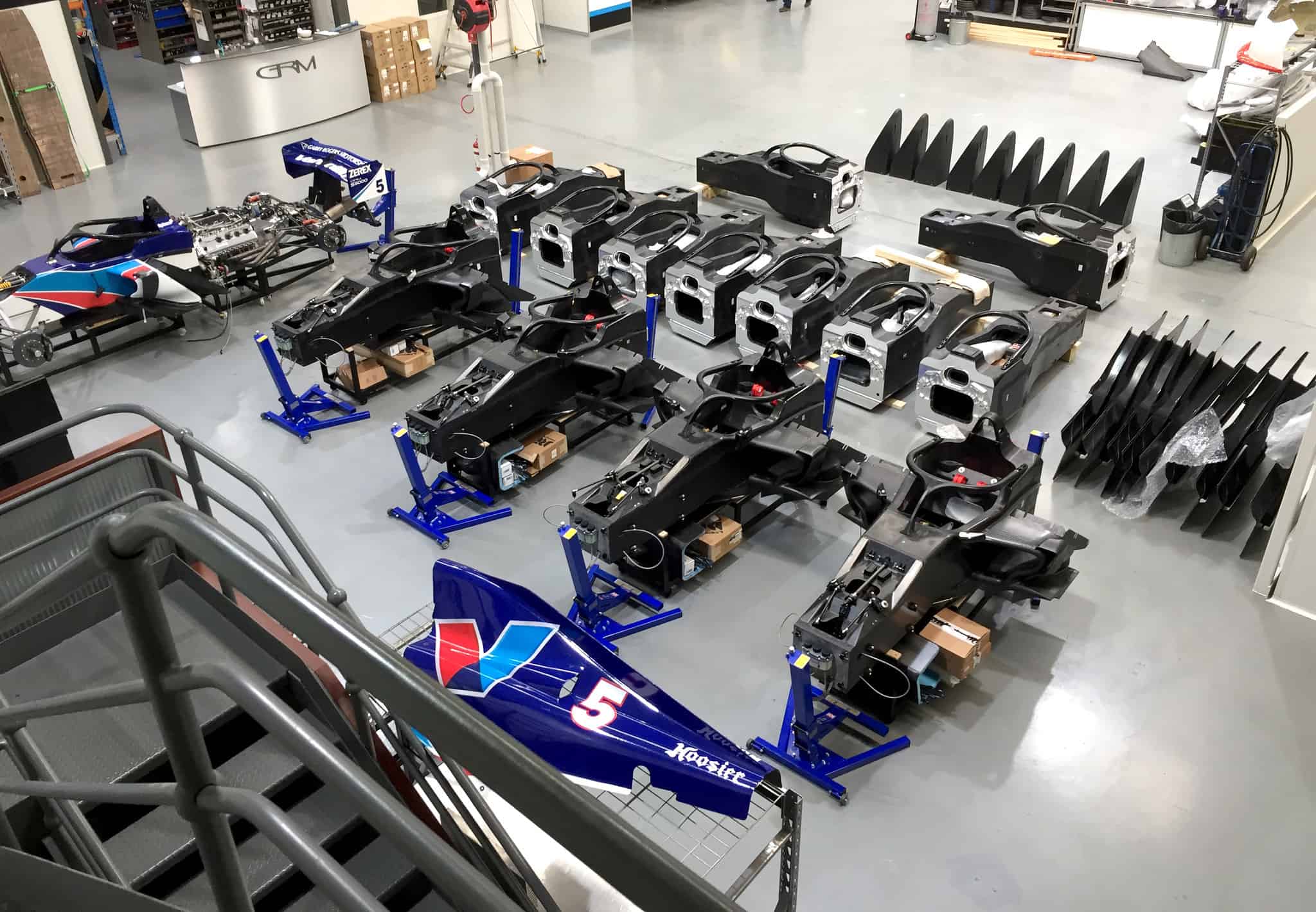 A significant milestone in the birth of the all-new S5000 category has been reached in Melbourne, with the arrival, from Onroak-Ligier (US), of the remaining first batch of S5000 tubs at Garry Rogers Motorsport.
The nine new tubs join the original chassis that has completed all of the test and development work, as well as the other four tubs, which landed in March.
The S5000 car is a unique Australian concept and, based on the French-designed Onroak-Ligier carbon-fibre chassis, is a masterclass of Australian motorsport engineering, with the entire car – outside the required FIA-approved safety cell and other selected Onroak-Ligier parts (nose, front wing, side pods) – being engineered and built in Australia. It has been designed with strength, safety and economy of both initial and ongoing costs as priorities in order to bring top-line single-seater motorsport back to Australia.
Construction of components is being completed at a feverish rate at the GRM workshop in Dandenong, with production lines for suspension parts, exhaust systems and the carbon fibre work that is being shared between GRM and LC Race Composites.
Elsewhere, further Australian ingenuity and input is the hallmark of S5000, with transmission and other driveline component manufacturing now in full swing at Holinger (Melbourne), S5000-spec 560hp V8 engines being assembled at InnoV8 (Brisbane) complete with Australian MoTeC electronics systems, and wheels coming together at Max Wheels (Sydney), along with a number of other crucial locally-made parts such as steering wheels, radiators and electronics wiring looms.
The S5000 category will contest its historic maiden race event at Sandown International Raceway on September 20-22.
Interested parties can contact Garry Rogers Motorsport directly, as below:
Phone: 03 9793 6933
Email: barry@grmotorsport.com.au
QUOTES
Barry Rogers
Garry Rogers Motorsport

"It's fantastic to see the remaining nine tubs arrive in Melbourne, on schedule and ready for our team to start to piece together," said Barry Rogers.
"We've been working hard and smart behind the scenes in preparation for this. Now with all of the tubs in place, we can start to bring them to life. It's a mammoth task, but everyone is going at a million miles and hour to get it done.
"While we have completed as much of the manufacturing as we can in-house, we are also using a number of trusted suppliers who have been working just as hard to get us to this point.
"Every time we put the Valvoline-liveried S5000 out on the track, we get a great reaction. It's it going to be amazing to have all of these out on track to bring back a 'hero' open-wheel class of racing to Australia."