Dylan O'Keeffe scores his maiden TCR Australia race win
June 8, 2019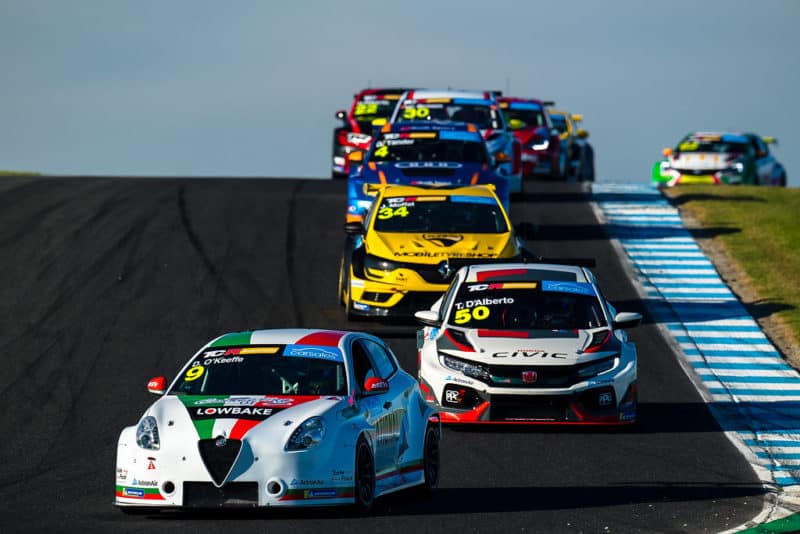 Dylan O'Keefe drove away from the crashes and carnage to score his maiden carsales TCR Australia Series win at Phillip Island.
The Alfa Romeo driver romped away from the grid and only had to manage his gap to the pack, avoiding a challenge during a pair of Safety Car periods, to finish ahead of Will Brown in a Hyundai i30 N and James Moffat in a Renault Megane.
The finishing order was no reflection of the battles in the pack, as Brown went from second to 16th with a Turn 2 mishap and then drove back through the field to overtake Moffat within sight of the chequered flag.
Tony D'Alberto looked like a contender on the first lap but his Honda Civic Type R faded during the race, while Garth Tander was the action man as he finished fifth after a series of touch-ups in his Audi RS3 including contact with Jason Bright's Volkswagen Golf.
"It's been a great start to the weekend. The car had lots of pace," said O'Keefe.
"The toughest thing was managing the re-starts. Luckily the car had lots of torque in second gear and I could go flat through the last corner onto the straight."
Brown was alongside the Giulietta on the grid but dropped the car into the gravel after less than half a lap.
"I won't do that again. I went for the hero move and came up a zero," he laughed.
"There was a bit of rubbing, but everyone is leaving a bit of room."
Moffat was happy to be third in one of only four Meganes racing anywhere in the TCR world, but admitted he is still lacking speed and had no answer to Brown's charge in the Hyundai.
"How good was that? We ducked and weaved, then weaved and ducked. But we missed a bit of carnage," he said.
There was lively racing through the field for only the fourth TCR race in Australia, with old adversaries Tander and Bright getting too close at times.
"There was a bit going on, but we got through it. Getting hit at Turn 1 is not a lot of fun," Tander said.
"We were faster, but in the wrong spots. It was a little bit frustrating, going backwards and forwards."
Andre Heimgartner looked racey from the start but got tagged by Bright, was involved in a multi-car pile-up that triggered a Safety Car, and finished in a Subaru WRX that needs new left-side panels.
"It was looking already … but it is what it is. I've seen better racing in Formula Vee," an angry Heimgartner said.
Among the non-finishers were Molly Taylor in the second Subaru, whose engine stopped, and Chelsea Angelo, who had brake failure in her Holden Astra.
Race 2 and 3 of carsales TCR Australia Series will return tomorrow, with the live broadcast on SBS starting at 1pm AEST.
Results, Race 1.
1 

 

  

9

  

Ashley Seward Motorsport 

     

Dylan O'Keeffe (Vic)

   

Alfa Romeo Giulietta
13
27:19.6614
2 

 

 

30

  

HMO Customer Racing

           

William Brown (Qld) 

   

Hyundai i30N 

       

13
27:24.6433
3 

 

 

34

  

Garry Rogers Motorsport

       

James Moffat (Vic)

     

Renault Megane RS

   

13
27:25.1912
4 

 

 

50

  

Wall Racing

                   

Tony D'Alberto (Vic)

   

Honda Civic Type R 

 

13
27:25.4262
5 

 

  

4

  

Melbourne Performance Centre 

 

Garth Tander (Vic)

     

Audi RS 3

           

13
27:25.7606
6 

 

 

22

  

Melbourne Performance Centre 

 

Hamish Ribartis (Vic) 

 

Audi RS 3

           

13
27:25.9902
7 

 

 

62

  

Kelly Racing 

                 

Alex Rullo (WA) 

       

Holden Astra 

       

13
27:28.1409
8 

 

 

33

  

Garry Rogers Motorsport

       

Chris Pither (NZ) 

     

Renault Megane RS

   

13
27:29.2676
9 

 

  

3

  

Melbourne Performance Centre 

 

Leanne Tander (Vic) 

   

Audi RS 3

           

13
27:29.5377
10

 

777

  

Kelly Racing 

                 

Andre Heimgartner (NZ)

 

Subaru WRX STi 

     

13
27:31.0155
11

 

 

35

  

Alliance Autosport 

           

Alexandra Whitley (Qld)
Volkswagon Golf GTI

 

13
27:38.5079
12

 

  

2

  

Melbourne Performance Centre 

 

Aaron Cameron (Vic) 

   

Volkswagen Golf GTI

 

13
27:44.8503
13

 

 

24

  

Wall Racing

                   

John Martin (NSW) 

     

Honda Civic Type R 

 

12
28:22.6048
DNF

 

37

  

Kelly Racing 

                 

Chelsea Angelo (Vic)

   

Holden Astra 

       

10
22:38.9375
DNF

  

6

  

Kelly Racing 

                 

Molly Taylor (NSW)

     

Subaru WRX STi 

     

 

9
21:01.0172
DNF

  

8

  

Taskforce / Alliance Autosport
Jason Bright (Vic)

     

Volkswagon Golf GTI

 

 

5
11:07.2387
DNF

  

7

  

Garry Rogers Motorsport

       

Jimmy Vernon (NSW)

     

Alfa Romeo Giulietta

 

5
11:07.7909
DNF

 

11

  

HMO Customer Racing

           

Nathan Morcom (NSW) 

   

Hyundai i30N